Fieldwork without internet connection – something very unusual these days, but during this season none of our mobile devices is working, so please forgive that this blog has been as silent as I was on twitter the last week.
Today, we have the great chance to catch up with emails and connect to the world again thanks to a kind Sudanese friend and his wonderful WLAN-connection! And of course I would like to give you a very brief account of our past week.
We set up headquarters in a really nice and comfortable Nubian house at Attab East, thus in the southern end of our concession. This proofed to be perfect, we can reach the most important sites in the surroundings by foot and shopping for our driver at Abri, the only major town nearby, is also very convenient.
In week 1, we succeeded in a survey of the most relevant sites on the East Bank from Attab, Ginis, Kosha, Mograkka up to Ferka. Although most of them have been located and documented by Vila, we also discovered some new sites, especially Pre-Kerma occupation sites. Ferka, Mograkka and Kosha are dominated by Christian remains and large Post-Meroitic cemeteries, including tumuli of very considerable size. Kerma cemeteries are also found until the northern part of our concession area.
Work focused on Ginis where also a new field measurement system was set up – we conducted a multi-disciplinary documentation of three selected sites in this area: magnetometry, aerial photography by drone and of course a surface survey.
Site GiE 001 is most interesting – it is a very complex settlement, having been used from the Kerma period throughout the New Kingdom and possibly until Pre-Napatan times. Vila observed a Kerma and a New Kingdom part of the site – however, this is probably much more complicated, and interestingly we not only found 18th Dynasty but also Ramesside pottery on the surface. Was this site really occupied during most of the era of the New Kingdom? So many important questions!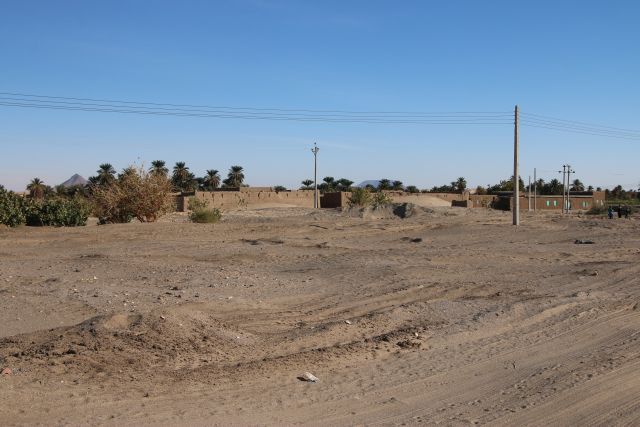 But I must confessed that I was very shocked when we first reached this site which was, just according to my preparation of this field season based on Vila's documentation, my personal favourite for excavation in the upcoming years. The western part of the site is now completely covered by modern houses that were built in the last 20 years! And its eastern part is heavily damaged by construction work for the electricity posts.
Well… After the first shock, I stuck to my original plan and we started to document the site in detail. Marion, helped by Huda and Giulia during this week, managed to conduct a great magnetometry survey at GiE 001 – the results are amazing and definitely what I was hoping for!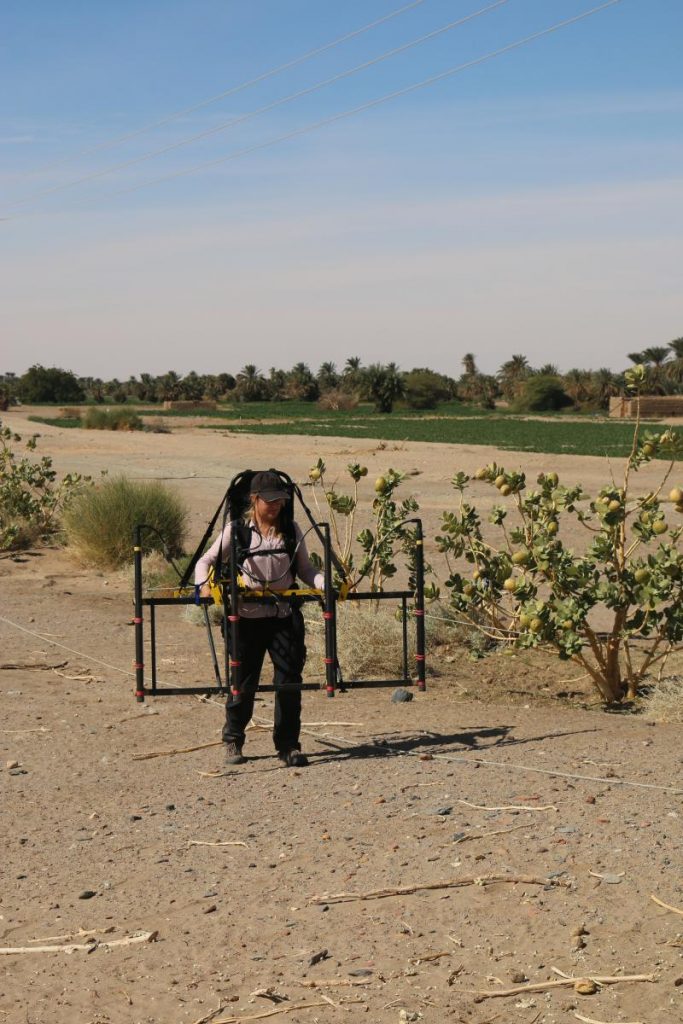 The site is much damaged, but plenty of information is still available under ground. We will keep you updated here – the site will keep us busy in the upcoming years.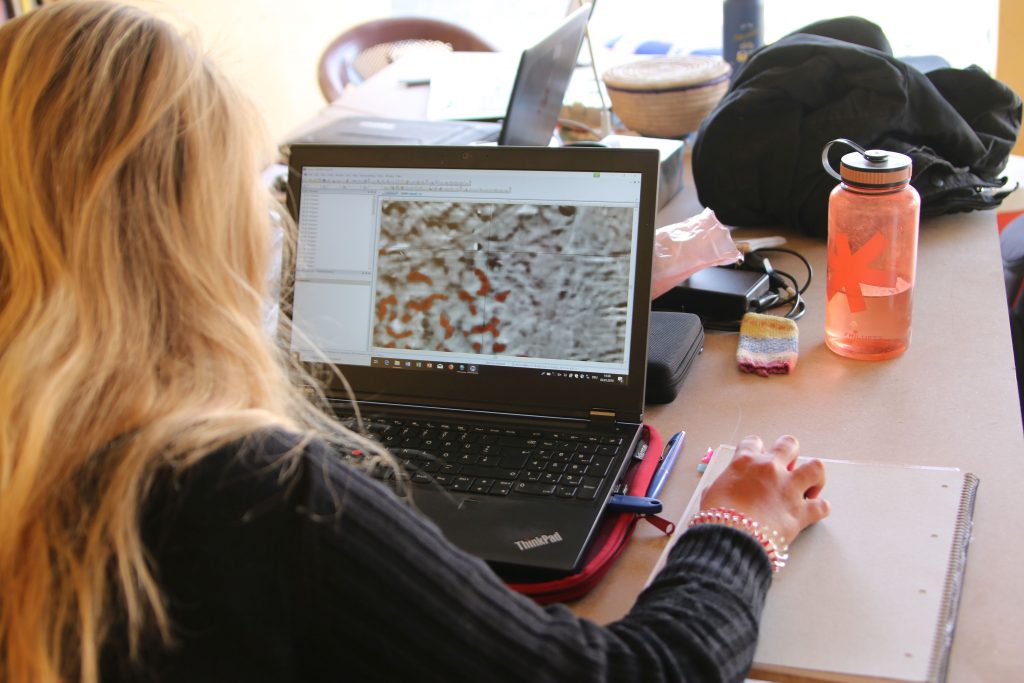 Other sites have already been documented using the drone of our department at LMU – Cajetan, assisted by Franziska and Valentina, managed to cover large parts of Ginis, focusing on the sites which will be excavated in the near future.
Although work during this week has been in parts very frustrating – many sites were badly damaged, others even disappeared since Vila's work!, the results are very promising and exceed my expectations already. And apart from all – the landscape is amazing and just really splendid, especially the view towards the West Bank. A privilege to work in this part of the Middle Nile Valley.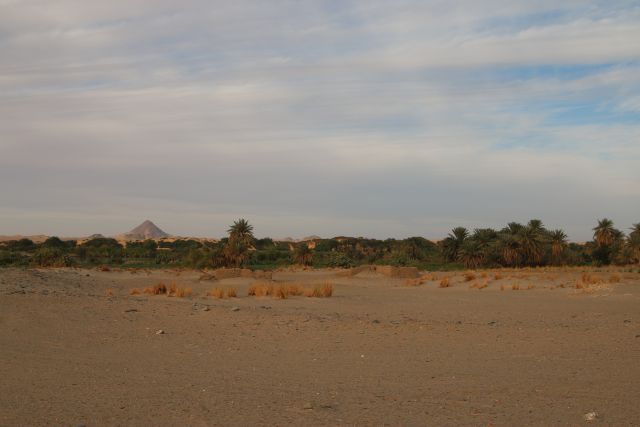 I collected already a nice sample of pottery from sites at the East Bank – dating from Neolithic times, Pre-Kerma, Kerma, New Kingdom (both 18th Dynasty and Ramesside), Pre-Napatan, Napatan, Post-Meroitic and Christian times. The rare Meroitic tombs in our concession are unfortunately all very much disturbed and yielded no finds for us as of yet.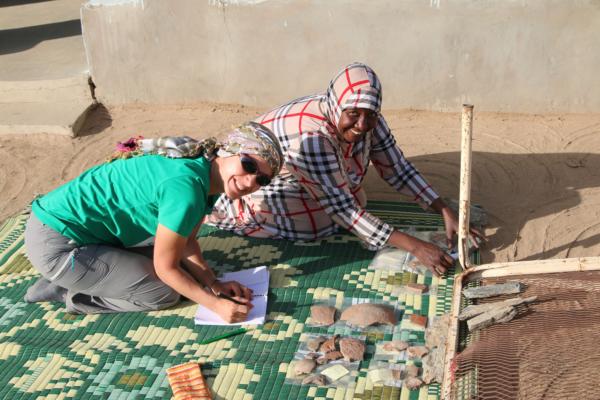 Next week work will focus on the West Bank and on magnetometry of more Kerma and New Kingdom sites on the East Bank – it will again be a very full, but definitely rewarding week!