We finished our test trenches and surface documentation at the Ginis East Kerma/New Kingdom sites yesterday. The last 6 working days until our departure to Khartoum will be dedicated to a foot survey – like last year, we will check the sites recorded by Vila and whether there are more findings, additional sites or other changes.
But back to the test trenches and our results from site GiE 004 where we documented in total 5 test areas. 3 were excavated, in 2 we only cleaned the surface and checked the find distribution/density.
I will deal with the relation between our results and the magnetometry from 2019 in another "Lessons learned from the 2020 season" blog post in the next days – for today, I'd like to share some news about the finds from GiE 004.
Initially, we thought that it is a Kerma site with a long occupation. This was partly confirmed and interestingly, Kerma Classique material dominants the ceramics! But more important, especially for our investigations of "cultural markers", is that 18th Dynasty, Egyptian New Kingdom pottery is also present, including imported Canaanite amphora and very few Marl clay sherds. A quite unexpected result, which gives us much food for thought!
But let's look at some basic numbers of finds – of course you have to keep in mind the differing sizes of our test trenches, but the quantities of stone tools and pottery are quite significant:
Trench 1 – stone 3, pottery 5
Trench 2 – stone 167, pottery 412
Trench 3 – stone 7, pottery 105
Trench 4 – stone 242, pottery 991
Trench 5 – stone 110, pottery 503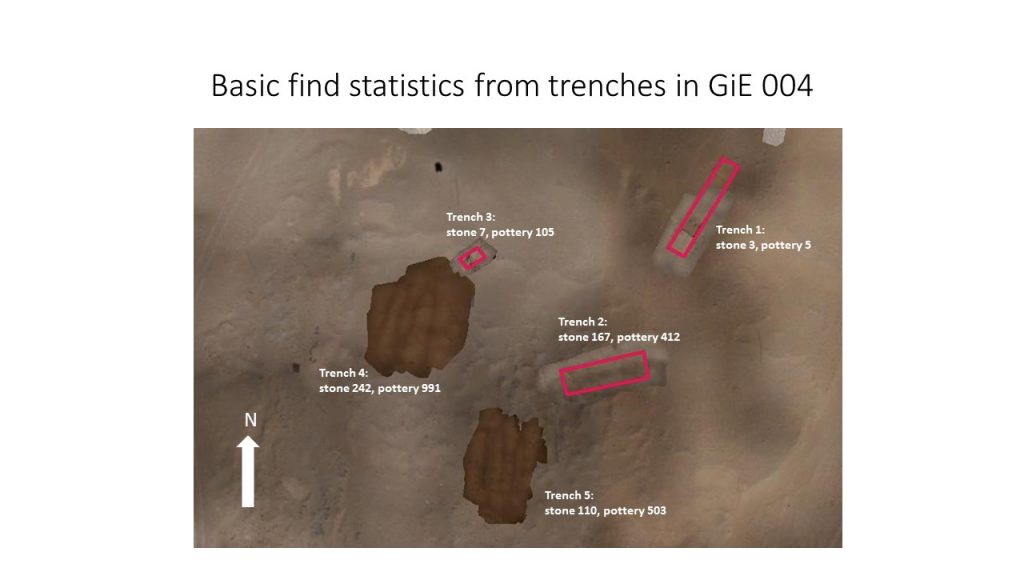 These numbers support the interpretation that Trench 1 and 3 are located at the edges or even outside the actual site; Trenches 2, 4 and 5 are very similar and all yielded much Kerma Classique material as well as Egyptian wheel-made pottery of the New Kingdom. The majority comes here from Trench 4 where almost 50% of the pottery from GiE 004 was found.
Trench 4 also yielded very nice stone tools, including a wonderful small arrowhead.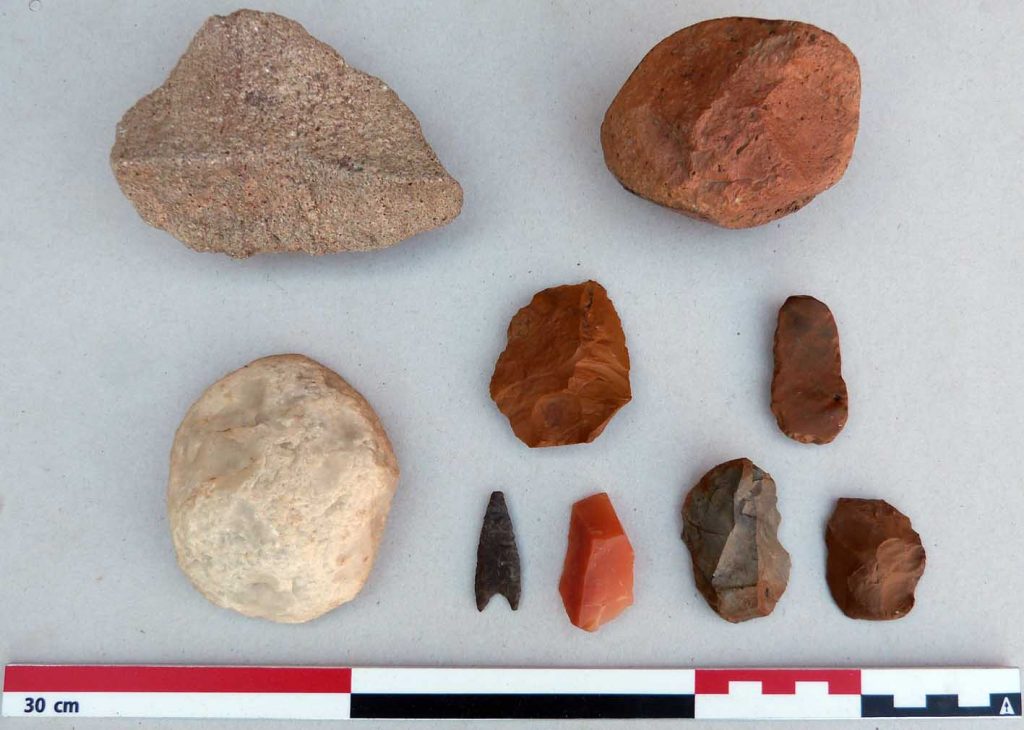 Overall, although much of the surface material in these trenches from GiE 004 was wind-worn and eroded as well as mixed (of course, there were also Medieval pieces present), both the pottery and lithics/stone tools speak for a domestic character of the site with different activity zones.