It's hard to believe – but tomorrow the last DiverseNile seminar of this year will take place. Chloë works already on the programme for next year, so we will continue with this successful online format discussing important aspects of the archaeology of the Middle Nile.
Tomorrow, Elizabeth Minor (Wellesley College), will be speaking about "Social Complexity and Community Resilience Strategies under a Changing Climate on the Middle Nile: Life at Es-Selim R4".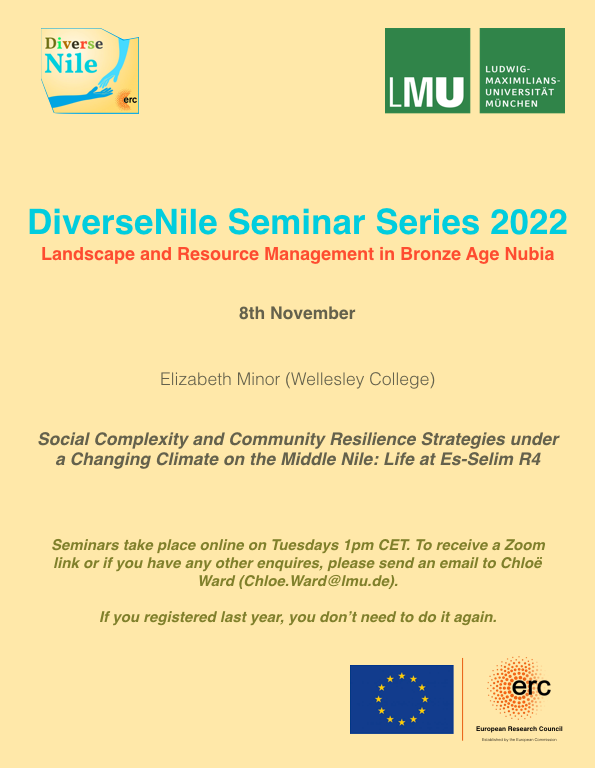 The site of Es-Selim R4 (Minor et al. 2020) is an intriguing Kerma Period settlement located in the Northern Dongola Reach. Preliminary results suggest that Es-Selim R4 represents an opportunity to determine a cultural sequence for rural Kerma settlement sites, being inhabited from at least the Kerma Ancien period through to the Kerma Moyen period. Most interestingly, the site also allows to shift perspectives and to investigate the nature of socio-economic interactions between Kermans and Egyptians on a regional level.
Elizabeth is a Visiting Assistant Professor in Anthropology at Wellesley College. She received her Ph.D. in Near Eastern Studies from UC Berkeley, and her research focuses on the Kingdom of Kerma and cultural connections between ancient Egypt and Sudan. She has a special interest in understanding interregional and local social relationships – and we will hear more about this in her lecture.
For those interested in Kerma art, I highly recommend Elizabeth's most recent article on key elements of Classic Kerma religious imagery (Minor 2022). In this though-provoking analysis she traces possible echoes of Kerman animal representations in later Kushite religion.
I am delighted that Elizabeth is joining us tomorrow! In case you cannot attend, be sure to check out the recording of her lecture – it will be available soon on LMU Cast.
References
Minor 2022 = Minor, Elizabeth 2022. Afterlives of Kerma religion: rams, lions, and fantastical winged animals (hippopotami and giraffes) in Classic Kerma and later Kush contexts. Journal of Ancient Egyptian Interconnections 35, 141-154.
Minor et al. 2020 = Minor, Elizabeth, Sarah M. Schellinger, Christopher Severa, Ahmed el-Ameen Ahmed el-Hassan, and Sajda Adam Omer Ahmed 2020. Laying the groundwork: the 2020 survey season and community outreach programme at the Kerma Period settlement site es-Selim R4 in the Northern Dongola Reach. Sudan & Nubia 24, 100-111.