Our first week with workmen excavating at Attab West in site AtW 001 was very productive, despite of some windy days when we had to stop early.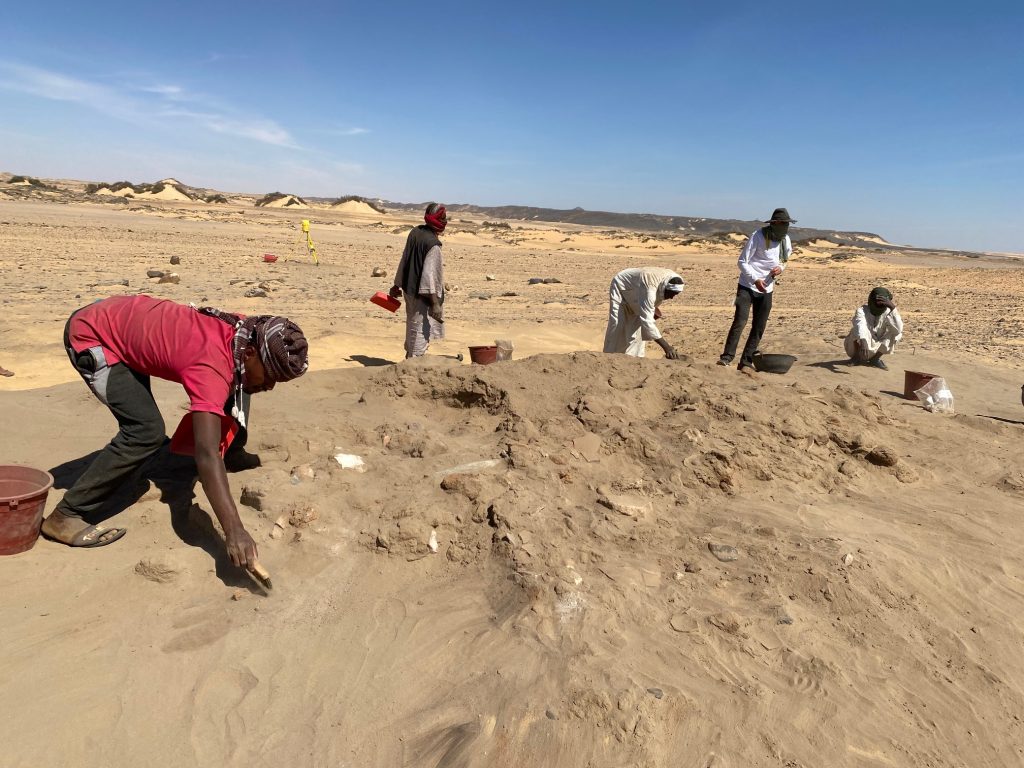 The mound of AtW 001 which was covered by schist stones and pottery sherds on the surface yielded substantial mud brick debris layers. These layers contained much pottery – a total of more than 6300 sherds was processed already – including many complete vessels. The most common shapes are Egyptian-style zir vessels, bowls and dishes, beer jars and Nubian-style cooking pots with basketry impressions. One almost complete Nubian cooking pot was still found in place, partly below a very large mud brick.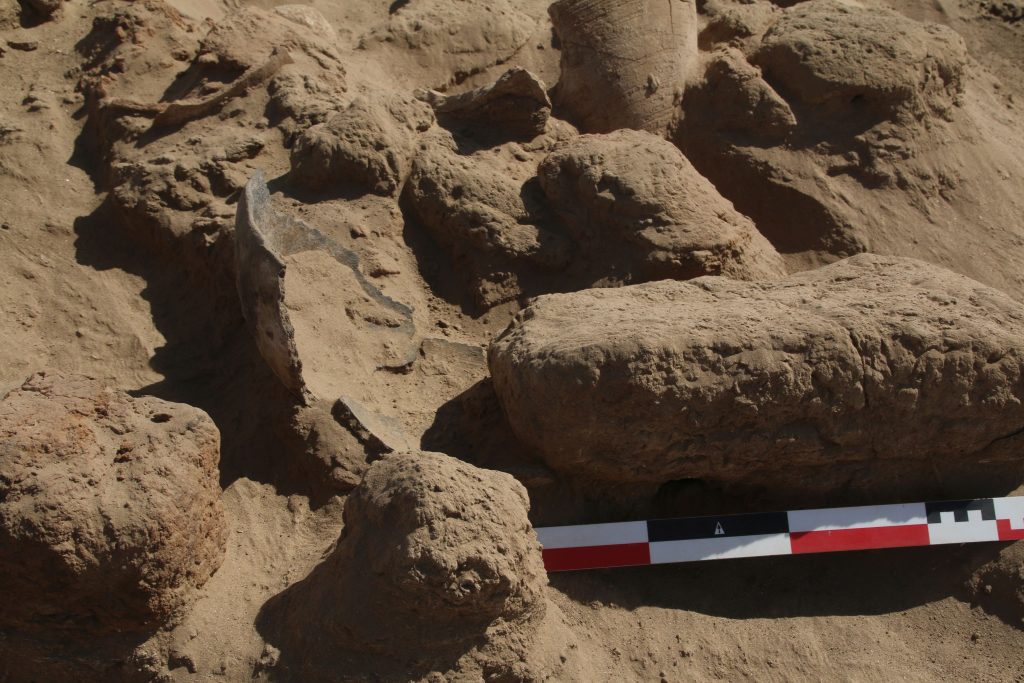 A large Nile clay bowl was found in a sandy filling south of the mound with mud bricks (Fig. 3). All in all, the pottery corpus very closely resembles the ceramics from the New Kingdom town of Sai Island, especially of the Levels 4 and 3 in SAV1 North, suggesting a date from the early 18th Dynasty to the mid-18th Dynasty. Interestingly, some of the vessels seems to belong to the Second Intermediate Period tradition – whether these are old pieces or imply a use of AtW 001 already during Classic Kerma times needs to be checked.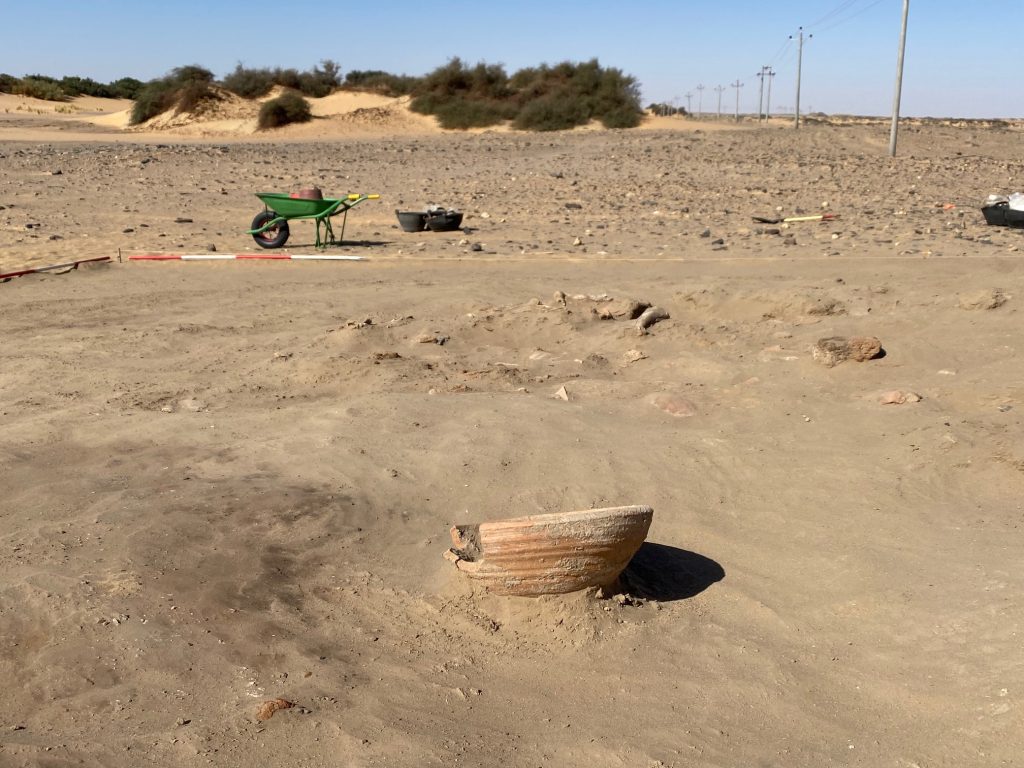 Similar to our findings from last year, we had plenty of charcoal, ashy spots and some burnt doum nuts as well as date seeds. Doubtlessly, people were eating and cooking here during the 18th Dynasty. This is further supported by many animal bones – seemingly mostly cattle but also some caprids. The details remain to be checked by our zooarchaeologist.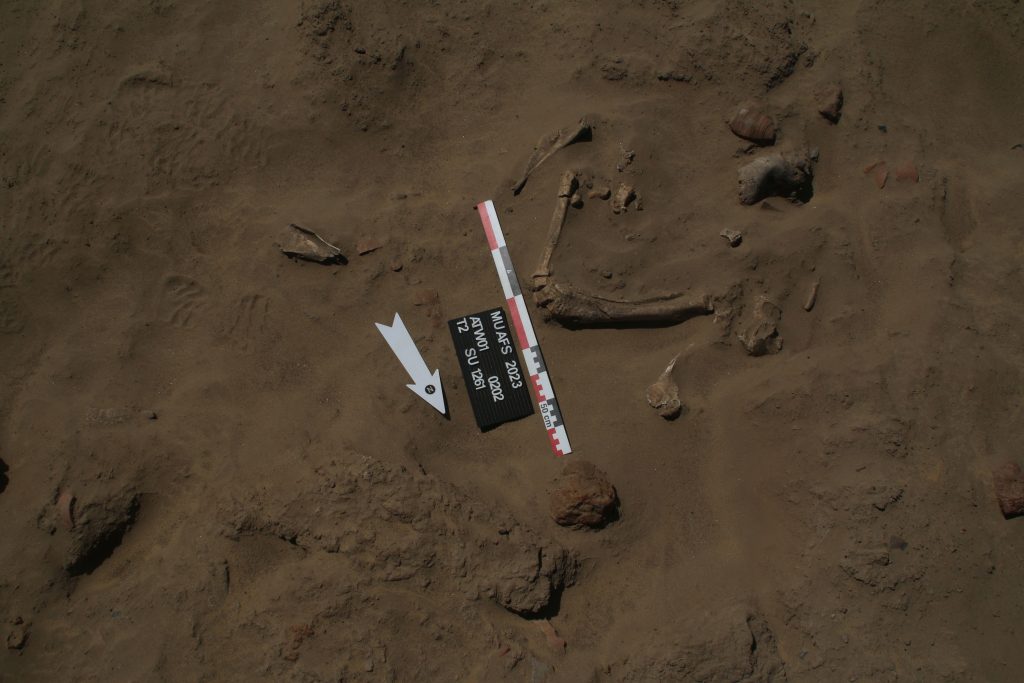 Finally, there is much evidence for quartz working at the site and many stone tools (especially pounders, whetstones, grindstones, and hand mills) – Sofia is documenting these and we will double-check if my previous interpretation of the site as being connected to gold working can be supported (or modified) by our new findings.
All in all, I am very happy with both the progress of work in week 1 and the great team of this season – together with our wonderful local workmen, Huda, Chloe, Matei, Sofia and I will continue on Saturday and an update will follow shortly.