Perfect timing – summer term at LMU Munich has just ended, I am currently in Vienna, busy with preparing the next AcrossBorders volume to be published with the Austrian Science press, and a new dissemination article about the MUAFS project just appeared in the latest issue of The Project Repository Journal (July 2019, pp. 50-51) and is now live.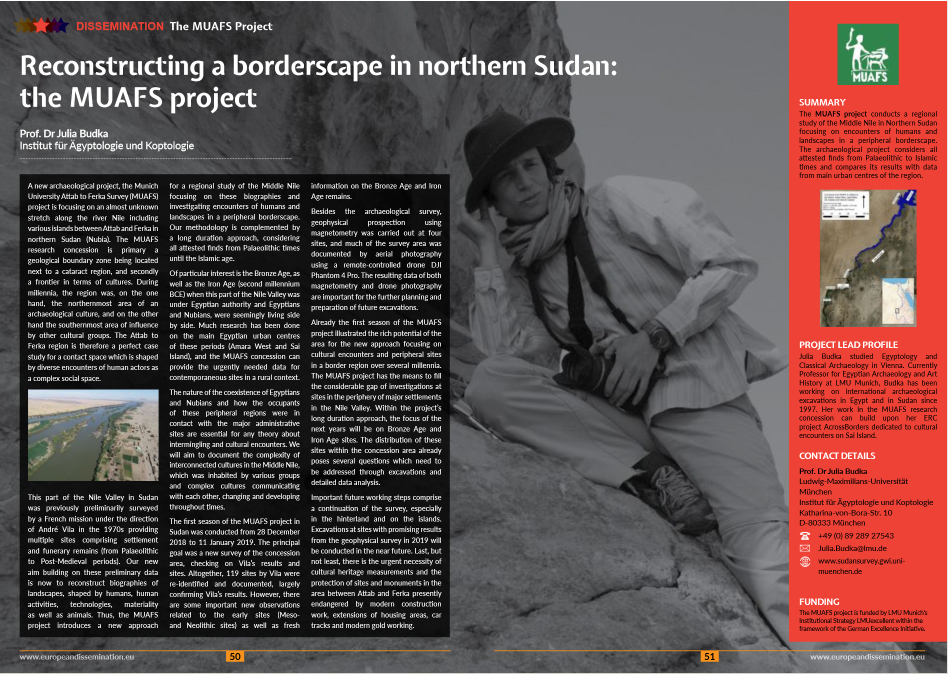 In this short article, freely available for download, I tried to stress that the MUAFS research concession is primary a geological boundary zone being located next to a cataract region – the Second Cataract and especially the Dal Cataract – , and secondly a frontier in terms of cultures. During millennia, the region was on one hand the northernmost area of an archaeological culture, and on the other hand the southernmost area of influence by other cultural groups. The Attab to Ferka region is therefore a perfect case study for a contact space which is shaped by diverse encounters of human actors as a complex social space.
We could confirm this rich potential with the results of our first field season back in December and January. The new approach of the MUAFS project to focus on cultural encounters and peripheral sites in a border region over several millennia will result in important new insights of this region of the Middle Nile Valley. With this new research concession, my team and I have the means to fill the considerable gap of investigations at sites in the periphery of major settlements in the Nile Valley. Within the MUAFS project's long durée approach, the focus of the next years will be on Bronze Age and Iron Age sites. The distribution of these sites within the concession area already poses several questions which need to be addressed by means of excavations and detailed data analysis.
An update on our plans for the next field season in Sudan will follow shortly.