According to the cold and rainy weather here in Munich, summer has long past – fittingly, our short summer break of the DiverseNile Seminar is now officially over. It is my pleasure to announce the upcoming lecture on Tuesday, August 31: Michele Buzon will be talking about "Intersectional Identities and Bodies: Exploring Biological, Geographic, and Mortuary Diversity in the Ancient Nile Valley".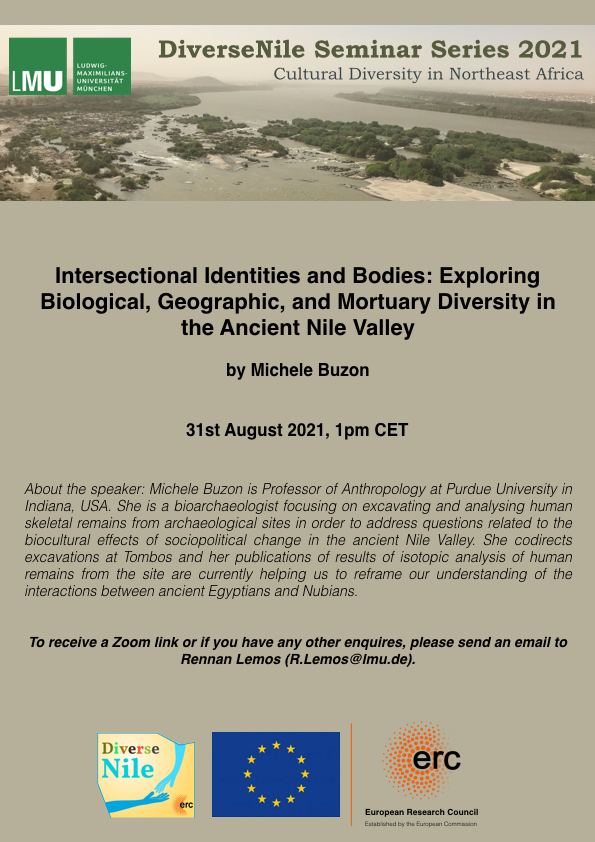 Michele is bioarchaeologist and Professor of Anthropology at Purdue University in Indiana, USA. I have the pleasure knowing her since many years, having met her both in Sudan and at conferences. She is the codirector of the important excavations at Tombos and we were therefore always in close contact during my AcrossBorders project. Our assessment of the strontium isotope analysis from Sai could nicely built on data published by her and co-authors. As I outlined in an earlier post, only common efforts will allow us to establish a strontium isoscape for New Kingdom Nubia and much work is still waiting for all of us.
Michele is one of the key figures in modern Nubian bioarchaeology conducting contextualized interpretations that combine skeletal evidence with settlement, environmental, and mortuary data. This approach allows to create a more nuanced picture of life and death in ancient Nubia (see also her recent summary of Bioarchaeology of Nubia in the Oxford Handbook of Ancient Nubia, Buzon 2021).
I am very much looking forward to her presentation and hope that many of you will be joining us – without doubts, Michele is going to show exciting material, fresh data and will offer much food for thought! As usual, late registration for our DiverseNile seminar is still possible via email.
Reference
Buzon, Michele R. 2021. Bioarchaeology of Nubia, in: The Oxford Handbook of Ancient Nubia, edited by Geoff Emberling and Bruce Beyer Williams, Oxford, DOI: 10.1093/oxfordhb/9780190496272.013.55