While the first weeks of our 2022 season focused on mortuary remains and excavations in cemeteries, first of all the Kerma cemetery GiE 003, we switched focus and location in our week 4.
Earlier this year during our MUAFS survey, I noted an extremely interesting site at Attab West, with loads of early 18th Dynasty potsherds as well as scatters of local schist pieces on the surface. This site, AtW 001, is a small almost circular mound (Fig. 1). Unfortunately, the new line of electricity runs right through the site and seems to have destroyed part of it. This week, we went back there and excavated one trench as a first check of whether stratigraphy is preserved and any structures are traceable.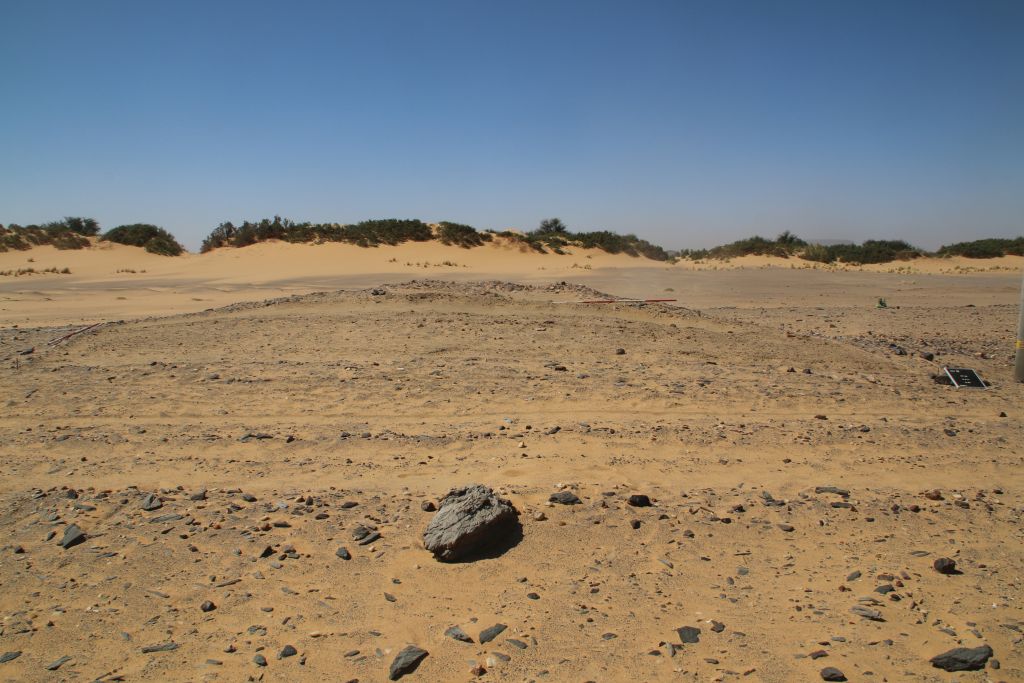 It was our first excavation on the west bank, which differs considerably from the east bank in terms of landscape and general conditions. Logistics are a bit more complicated as well, bringing the team and the equipment to the site by boat and through large sandy dunes with picturesque tamarisks.
In sum, the test excavation at AtW 001 was a challenge but also very rewarding – we found what can be classified as domestic rubbish, loads of ashy deposits, plant remains, animal bones and lots of pottery sherds as well as debris from fires and other everyday activities. The ceramics are nicely datable to the early 18th Dynasty to Thutmoside times. Interestingly, the amount of Nubian wares in the various horizons of fill was really high, accounting to ca. 30% of the ceramics. The lower fills only had very little ceramics inside and here the Nubian wares were more common than Egyptian style wheelmade pots – this is just a first impression and I will follow up on this with a more detailed assessment soon!
We seem to have at least two phases of activity in the New Kingdom period preserved, possibly an early phase and a slightly later one which can be dated to Thutmose III. Remains of collapsed mud bricks and overfired sherds indicate the former existence of buildings and possible also ovens or kilns, but no standing remains of architecture was identified up to now. There were several homogenous deposits of silt, partly showing some ash. The ashy spots of the earliest phase are directly on top of the natural alluvium, suggesting that we either have an open courtyard or maybe part of the periphery of a domestic site. Apart from ceramics, the finds included some grindstones and stone tools like pounders, testifying to some grinding and crushing activities. However, many questions about this site are still open and AtW 001 needs to be excavated on larger scale in the near future.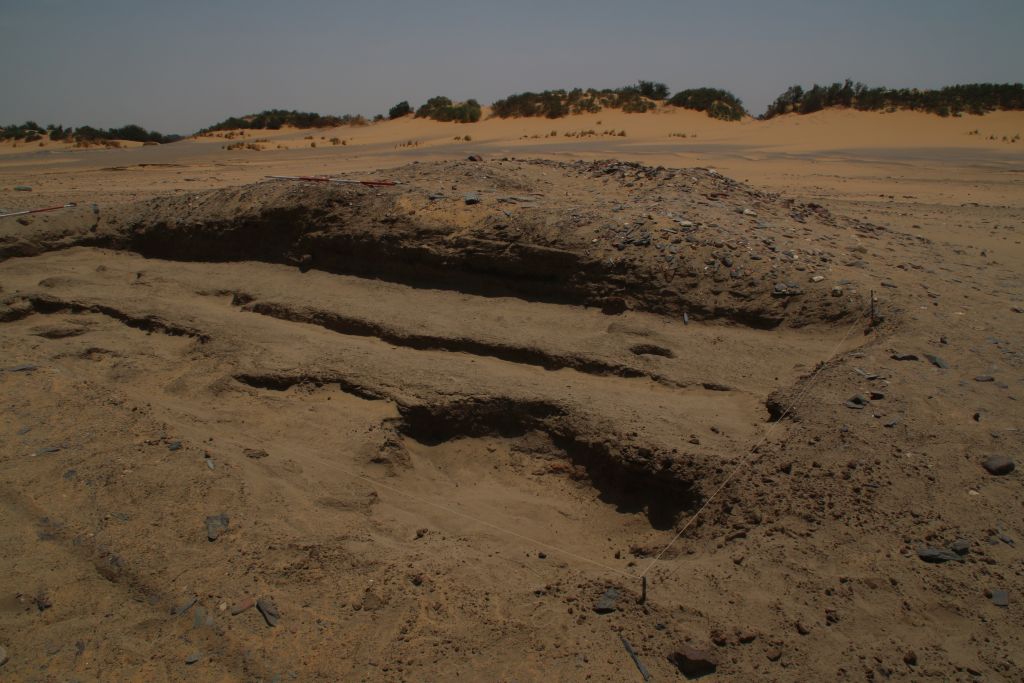 Overall, our site finds a perfect parallel in the nearby site 2-R-18 in the desert hinterland of Amara West (Stevens and Garnett 2017, previously documented by Vila in the 1970s). As highlighted by Anna Stevens and Anna Garnett, there were also rubbish deposits above homogenous deposits of silt and ash, which seem to have accumulated directly on top of the natural surface. Similar to our site, no traces of architecture were preserved at 2-R-18. The material culture, especially of the pottery and the stone tools, is extremely well comparable to our finds. The dating to the early 18th Dynasty is also almost identical.
Thus, the results of our trench are clearly promising and work at AtW 001 will continue in the near future. Especially the function and duration of use of this site will make a considerable impact to our aims of addressing seasonal sites as well as sites connected with gold working (as suggested by Stevens and Garnett 2017 for 2-R-18 and other desert hinterland sites) and other activities in the 18th Dynasty periphery of Sai Island.
With the final day of work at AtW 001 yesterday, our fieldwork with workmen and excavation has come to an end – just in time before Ramadan starts tomorrow. Part of the team – all of them fully recovered from the corona infection by now – has already left and is heading back to Vienna and Munich. A small team will continue with processing finds here at Ginis and documenting the rich material culture from our very successful excavations in 2022.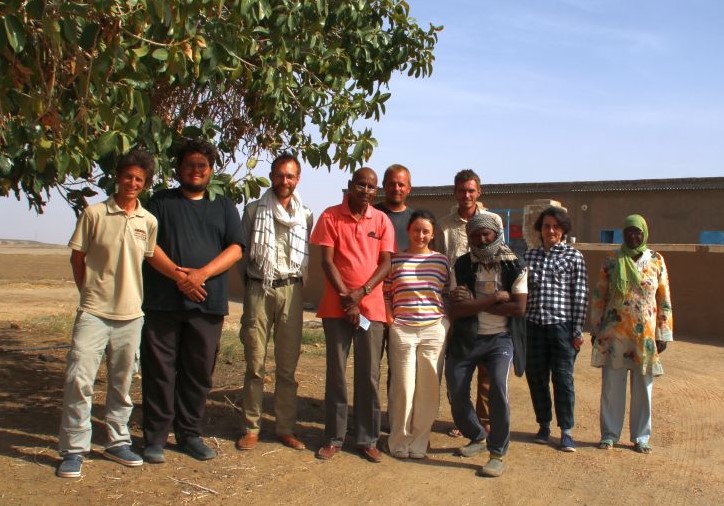 Many thanks go to all team members of 2022 – it has been a challenging season with so much wind, cold weather, covid-19 and a dense excavation programme at four different sites. The results are clearly remarkable and I am very grateful to all! For now, I am really keen to process the new material in more detail in the upcoming week.
Reference
Stevens and Garnett 2017 = Stevens, A. and Garnett, A. 2017. Surveying the pharaonic desert hinterland of Amara West, 287‒306, in: N. Spencer, A. Stevens and M. Binder (eds.), Nubia in the New Kingdom. Lived Experience, Pharaonic Control and Indigenous Traditions. British Museum Publications on Egypt and Sudan 3. Leuven.