One of our objectives within the DiverseNile project, to reconstruct cultural encounters based on the material record by the detailed assessment of the most important productive activities, technologies and foodways, has received plenty of new material evidence during the 2022 excavation season. Most importantly, thanks to the support of NCAM and especially our inspector Huda Magzoub, I was able to export a selection of pottery samples for scientific analysis to Germany. These new samples from our excavations in Ginis East (sites GiE 001 and 003) and Attab West (site AtW 001) are of huge importance for the project, especially because due to the restrictions caused by the corona pandemic for archaeological fieldwork in the last two years, we could until now only investigate the petrography of ceramic samples from Dukki Gel.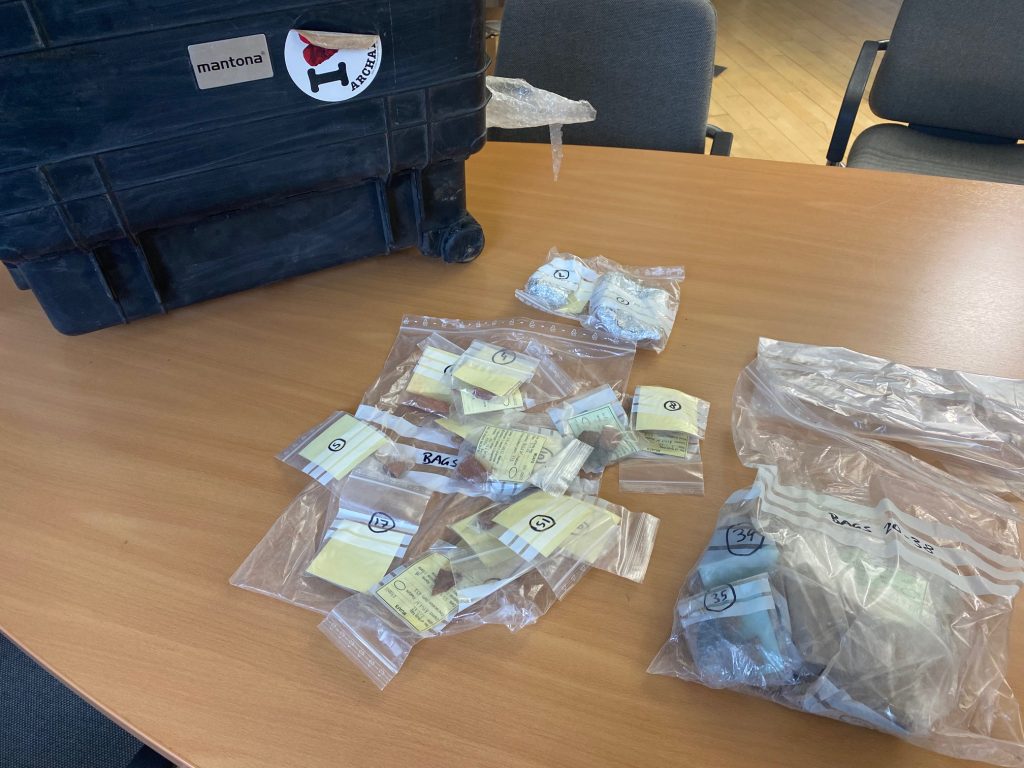 This ties in with what our PostDoc Giulia D'Ercole has summarised in a recent paper: "For over seventy years, theoretical approaches and methods of classification of ceramic objects in Sudan have gradually changed, as have the perspectives and the general purposes of archaeological research. In general, scholarly attention has progressively shifted from forms (i.e., decoration and shape) to mineral and chemical compositions of ceramics and vessel contents (i.e., petrographic, compositional, and organic residue analyses)" (D'Ercole 2021). This changed focus already influenced our research within the framework of the AcrossBorders project and is now continued with the DiverseNile project.
The analysis of the material culture in Work Package 3 of the DiverseNile project is undertaken from a multi-perspective level, including scientific analyses focusing on provenience studies (e.g. ceramic petrography and iNAA, see already D'Ercole and Sterba 2018). For the ceramics, we will combine macroscopic observations with analytical approaches and evaluate the results of optical microscopy (OM) and chemical analyses (XRF and iNAA) in conjunction. Together with LMU colleagues, Giulia has also introduced Raman spectroscopy as a new application to answer various technological questions, in particular on the manufacturing stages of production and firing of the pots. This will especially help to understand questions about local productions and influences of Nubian ceramic traditions for preparing wheel made pots in the Middle Nile region.
In the last days, I was busy preparing the documentation of our new ceramic samples from Ginis East and Attab West. I selected twenty-one samples for optical microscopy (OM) and thus for the preparation of thin sections, while I will bring 108 samples later this week to the Atominstitute in Vienna where they are being analysed for instrumental Neutron Activation Analysis (iNAA) by our colleague and external expert in the project, Johannes Sterba.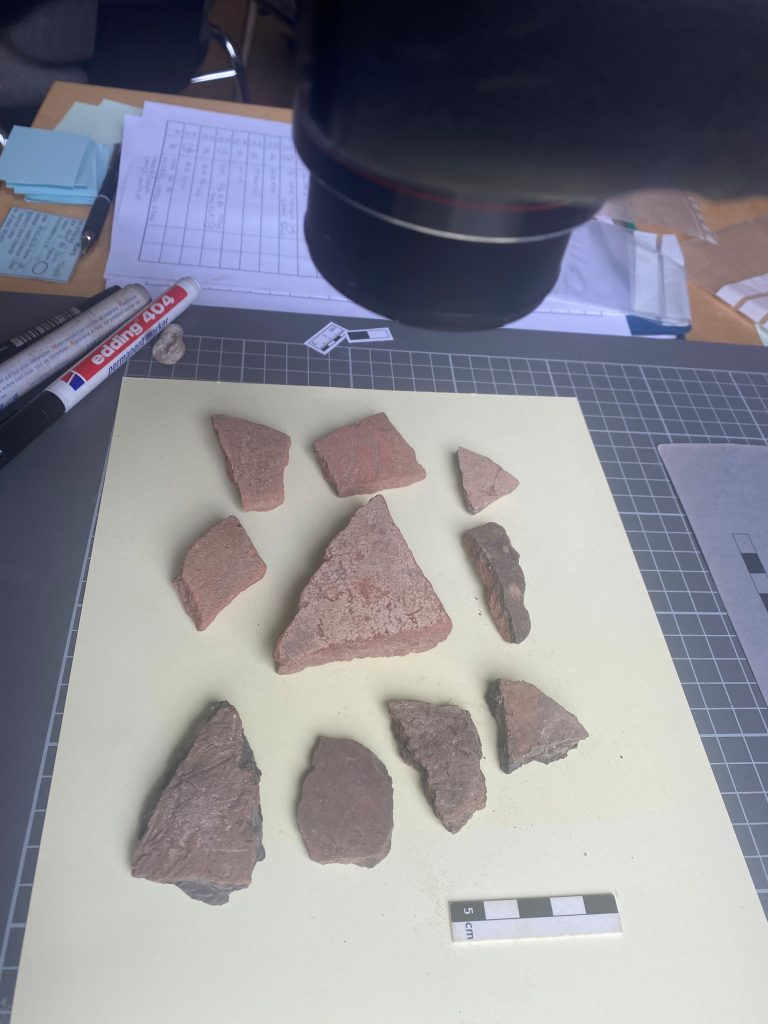 The new samples comprise sherds of various surface treatments and different fabrics of the Kerma ceramic tradition as well as diverse Egyptian style wheel made samples of which the majority seems to attest to a local pottery production in the Attab to Ferka region. Photographing the samples, I was again struck by the extremely interesting appearance of the material from the domestic site AtW 001. Although I know that the scientific analyses will take some time and I need to be patient, I cannot wait to integrate the results from iNAA and petrography with my archaeological assessment and macroscopical observations and discuss them further with Giulia and Johannes.
Like Aaron M. de Souza and Mary F. Ownby very truly remarked in a recent paper: more micro-analyses of Nubian material culture need to be undertaken to achieve a better understanding of cultural diversity in the Middle Nile (de Souza and Ownby 2022, 55).
References
D'Ercole, G. 2021. Seventy Years of Pottery Studies in the Archaeology of Mesolithic and Neolithic Sudan. Afr Archaeol Rev 38, 345–372. https://doi.org/10.1007/s10437-021-09432-y
D'Ercole, G. and Sterba, J. H. 2018. From macro wares to micro fabrics and INAA compositional groups: the Pottery Corpus of the New Kingdom town on Sai Island (northern Sudan), 171–183, in: J. Budka and J. Auenmüller (eds.), From Microcosm to Macrocosm: Individual households and cities in Ancient Egypt and Nubia. Leiden.
de Souza, A.M., Ownby, M.F. 2022. Re-assessing Middle Nubian cultural constructs through ceramic petrography. Afr Archaeol Rev 39, 35–58. https://doi.org/10.1007/s10437-022-09473-x