Time flies as usual and our DiverseNile Online Seminar Series will commence with a first presentation by Elena Garcea tomorrow.
The Seminar Series under the general topic of "Cultural Diversity in Northeast Africa" has a wide chronological and regional scope and we will start with a view from Prehistoric Sudan. I am more than happy that we have one of the renown experts in this field as our first speaker: my dear friend and colleague Elena Garcea from the Università degli studi di Cassino e del Lazio Meridionale.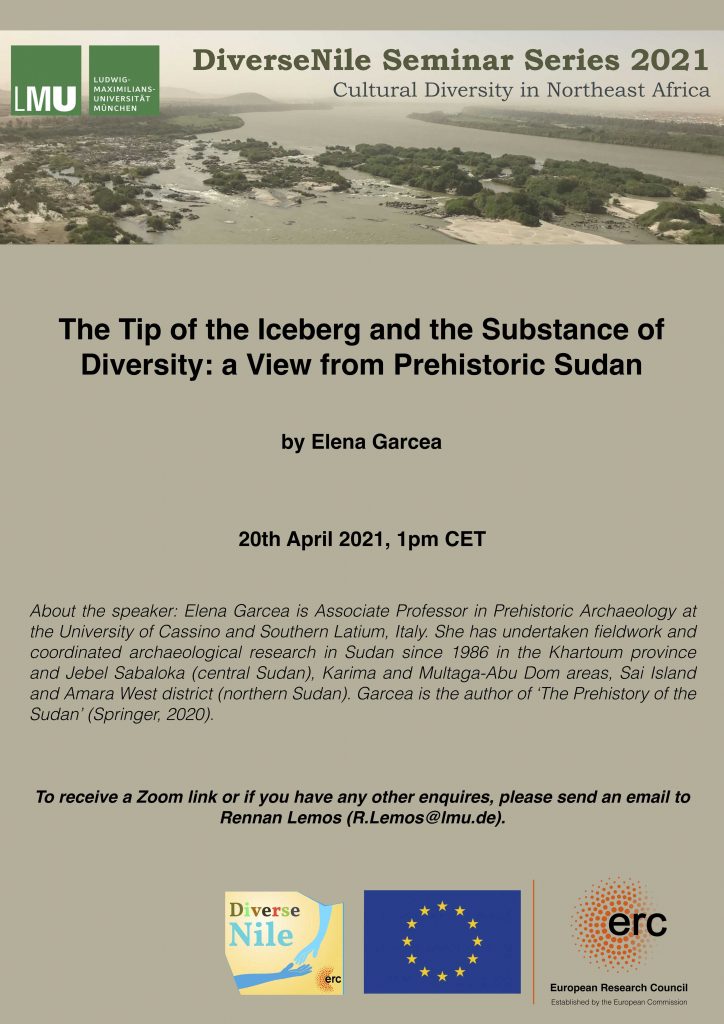 I first met Elena 10 years ago while we were both working on Sai Island – ever since, she has become a close friend and collaborator to which I owe fruitful comments, advices and plenty of discussion on various occasions. Elena collaborated already with the AcrossBorders project and one of the outcomes is a joint article which appeared in Antiquity in 2017, with Giulia D'Ercole (one of Elena's former students) as the corresponding author (D'Ercole et al. 2017).
Here, it became very obvious that a shared view from Prehistoric and Bronze Age Sudan can result in interesting insights and pose a number of relevant questions. The long settlement sequence on Sai over millennia provided an excellent opportunity to study continuity and discontinuity in long-term pottery traditions. Thanks to Elena, we presented a preliminary version of this research at the 14th Congress of the Pan African Archaeological Association for Prehistory and Related Studies, hosted from July 14-18 2014 by the University of the Witwatersrand at Johannesburg, South Africa. This trip to South Africa was in many respects rewarding and one of my personal highlights of congress experiences.
Elena's research is mostly focusing on the last hunter-fishers-gatherers and early food producers and users of domestic plants and animals in Sudan. All of her interpretations are always reflecting recent theoretical perspectives, in particular technical knowledge accumulation, storage strategies and optimal foraging theory. She has undertaken fieldwork not only in Sudan but also in Libya and Niger. In Sudan, she has worked in different parts of the country: Khartoum province and Jebel Sabaloka (central Sudan), Karima and Multaga-Abu Dom areas, Sai Island and Amara West district (northern Sudan).
Elena recently published a book on the Prehistory of Sudan (Garcea 2020). In my view this is an excellent piece of work, not only for students but for anyone who wants to understand the early history of Sudan within a wide framework. The book profits from more than thirty years of field experience and brings together this expertise with analyses in laboratories, conference presentations and numerous publications to develop a differentiated picture of Prehistoric Sudan.
I am personally very much looking forward to this kick-off of the DiverseNile Seminar Series! For those of you who I could convince that it will be clearly worth to attend Elena's lecture: participation is free but registration via email is mandatory. See you all tomorrow!
References
D'Ercole, G., Budka, J., Sterba, J., Garcea, E., & Mader, D. 2017. The successful 'recipe' for a long-lasting tradition: Nubian ceramic assemblages from Sai Island (northern Sudan) from prehistory to the New Kingdom. Antiquity, 91(355), 24-42. doi:10.15184/aqy.2016.262
Garcea, E. 2020. The Prehistory of Sudan. Berlin.