Time passes quickly, we know, especially when good things happen. Only last January with a 9-months pregnant belly – and an inspired although easily forgetful pregnancy brain – I wrote the blog post "Some thoughts around the concepts of materiality, identity and style". By that time, I already had some ideas jumbling around in my mind, I was reading quite some articles about materiality, entanglement, and style, taking notes, and in a way I wanted to back them up somewhere, in a safe place, before starting my parental leave. Meanwhile, my second baby, Filippo, was born and he is now an eight months healthy and curious boy who crawls everywhere and chews anything (with a preference for books!) all around the apartment. Meanwhile, I have also ended my maternity leave and I am officially back in the office! And there could not be a more excited and effective return than being able to draw on those preliminary thoughts and notes and make them flow into my lecture on "Material meanings, technology and cultural choices. Pottery production in Bronze Age Nubia", the penultimate within our 2022 DiverseNile Seminar Series of lectures on Landscape and Resource Management in Bronze Age Nubia.
Once again, I wish to express my gratitude to both Julia Budka and Rennan Lemos for having invited me to give this talk. Also, I take the chance to thank the colleagues who were present in the audience and took part in the discussion. For those who have not had the opportunity to attend the lecture, you can find it recorded on our website at the following link: DiverseNile Seminar Series 2022 (uni-muenchen.de). Eventually, I am going to summarize below some of the main topics I covered. In principle, there was the idea of taking stock of the state of the art of my results and current research aims within the Work Package 3 of the project. Also, I meant to compare the large-scope technological and compositional study conducted within the frame of the ERC AcrossBorders project on the ceramic assemblage from the New Kingdom colonial town of Sai Island with the results available from the analysis of the ceramic material from the Kerma/New Kingdom site of Dukki Gel. The latter have been actually already included in our DiverseNile database and together with the Sai Island corpus constitute a pretty massive reference collection of over 300 samples.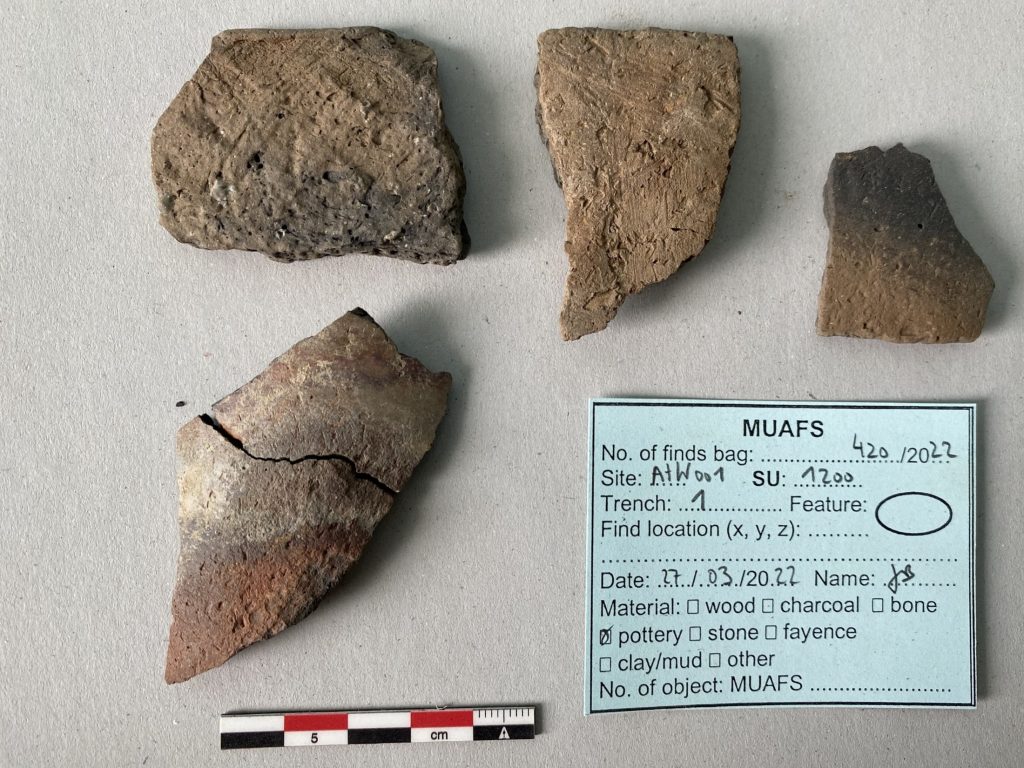 Eventually, I was keen to introduce our new set of samples – 108 beautiful and highly promising ceramic sherds, among which diverse examples of Nubian-style and Egyptian-style wares in Nile clay, selected during our last field season from the region between Attab and Ferka, namely from the sites of Attab West 001, Ginis East 001, and Ginis East 003, two settlement sites and a Kerma cemetery (Figures 1 and 2).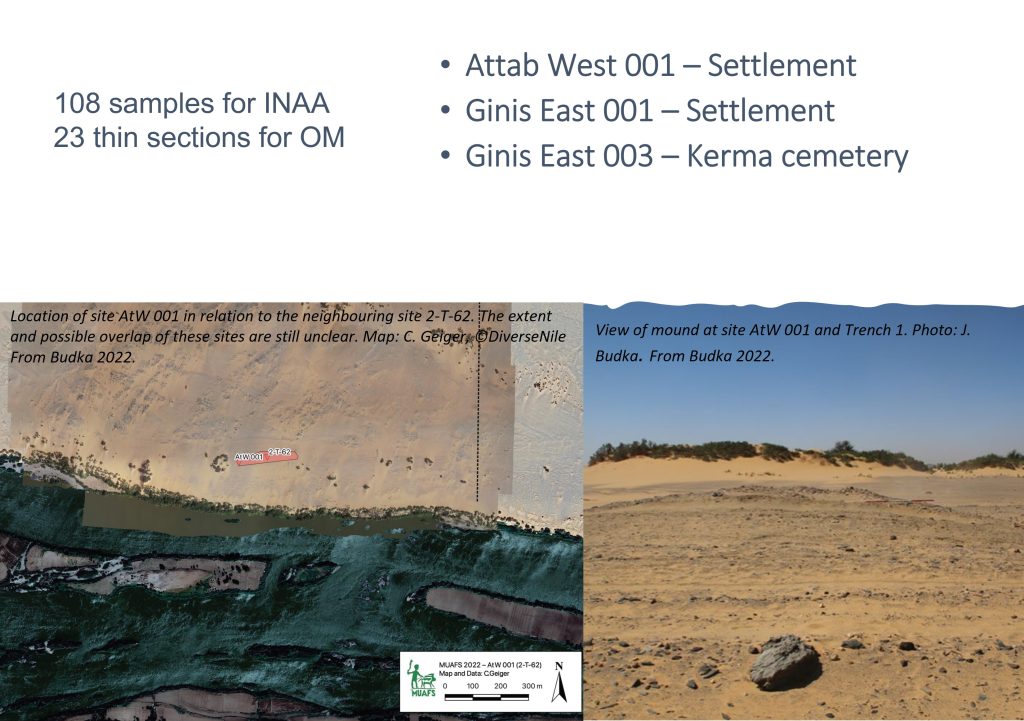 For presenting these data, I built up a consistent theoretical frame that provided for the concepts of materiality, style, and "chaîne opératoire". I started by talking about the meaning that we attribute to objects, not only those with high symbolic value like luxury goods or amulets, but also and above all those objects of domestic use, which we all have in our kitchens and which intersect daily with our traditions, culinary practices, gestures, and phares so that every family, and in a broad sense every culture, has not only its own family lexicon (sensu Ginzburg 1963) but also a familiar lexicon of the material culture that has belonged to it. I have therefore examined the etymology of the word object, from the Medieval Latin obiectum "thing put before" (the mind or sight), from which comes the idea of the object as everything that the subject (human/culture) perceives as different from himself. Hence the reference to a long tradition of philosophical and linguistic studies in which the objects, and material culture in the extended sense, has been interpreted according to an anthropocentric one-way perspective mainly as static representation of the (human) subject (for further details see Fahalander 2008). The discussion continued by examining the concept of material culture in archaeology and anthropology with reference to the academic movement of 'Processual archaeology' and then in accordance to the 'post-Processualism'. Eventually, I have talked upon the recently increasing interest on 'things and materiality', the so-called New Materialism (see e.g., Olsen et al. 2012) and with it a new way of perceiving the material reality as centred on itself, if not freed by the human subject (it can never be completely so), at least less depended on the human apparatus of symbolic representation and functional meanings. Not by chance in the last decades, we have also witnessed a progressive change of terminology with the use of the words things and materiality gradually replaced that of material culture.
I therefore examined the concepts of materiality and style in reference to the manufacturing sequence linked to the production of Egyptian-style and Nubian-style vessels in Nile clay, with case studies from both Sai Island and Dukki Gel, and thus observed in which stages of the chaîne opératoire were the identity aspects of the aforementioned cultures and ceramic traditions more (or less) emphasized.
Looking at the ceramic manufacture not just as a finished product resulted from the human action and intended for functional, social, and representative needs, but as the outcome of a series of gestures and corporeal actions that take shape in the first place in direct contact with the environment, by means the choice and manipulation of the raw materials, implies putting ourselves in a new multi-scale perspective, so that we can move forward from the anthropocentric dimension and add to the dialectical relation objects vs. humans a third party, namely the environment with its vegetation, animals, bodies, and various materials such as clay, water and sand.
Secondly, can we ask ourselves with greater knowledge and detail "Who produced the vessels?" That is, who, among the Nubian and / or Egyptian potters having their workshops settled in Upper Nubia – most of the analysed Egyptian style and Nubian style Nile wares in Nile clay from Sai Island have showed indeed the same chemical fingerprint (D'Ercole and Sterba forthcoming) – selected the raw material for making their vessels, kneaded the pastes, and then went to shape the pots, to treat the surfaces, to apply the decorations and finally to make the fire? It is plausible to think that if not all, at least some of the gestures and stages of the manufacturing sequences took place simultaneously in the same workshop without a too rigid separation between Egyptian and Nubian production. That is, that the same potter/s possibly prepared and fired together Nubian and Egyptian style vessels and that only the stages related to the production and finishing (those where we have observed the greater diversity of style!) took place separately on the basis of specific technological skills and regional traditions.
It is still plausible to think that in such promiscuous contexts some of the so-called hybrid vessels, showing a mixture of Egyptian and Nubian stylistic aspects and technologies, have taken shape, perhaps initially accidentally, to then become objects possibly intentionally sought and widespread as the expression of a shared use of the same territory and mostly of the progressive entanglement between the Egyptian and Nubian cultures. To what extent were these isolated cases or is it realistic (and ethically correct) to speak about "Creolization" or "Koinezation" of ceramic styles? (for the term koiné and "International artistic koiné" cf., Feldman 2006).
A solid theoretical background combined with a broad-spectrum analytical approach based on the combined macroscopic and microscopic analysis of several ceramic collections from several bordering regions environmentally and culturally highly similar but also extremity distinctive (e.g., Sai Island, Kerma/Dukki Gel, and the Attab to Ferka region) is already allowing us to answer some of these questions and to formulate many others more and more punctual on the way of expanding our knowledge on the complex system of socio-cultural, economical, and ecological dynamics that took place during the Bronze Age period in the various regions of Nubia.
References
D'Ercole, G. and Sterba, J. H. Forthcoming. Chemical analyses of the pottery corpus from the New Kingdom town of Sai. In: J. Budka (with contributions by G. D'Ercole, J.H. Sterba and P. Ruffieux). AcrossBorders 3: Vessels for the home away from Egypt. The pottery corpus from the New Kingdom town of Sai Island. Archaeology of Egypt, Sudan and the Levant, Vienna: Austrian Academy of Sciences Press.
Fahlander, F. 2008. Differences that matter. Materialities, material culture and social practice (127-154). In: Glørstad, H., & Hedeager, L. eds. Six essays on the materiality of society and culture. Bricoleur Press.
Feldman, M. H. 2006. Diplomacy by Design: Luxury Arts and an 'International Style' in the Ancient Near East, 1400–1200BCE. Chicago: University of Chicago Press.
Ginzburg, N. 1963. Family Lexicon. Daunt Books.
Olsen, B., Shanks, M., Webmoor, T., Witmore, C. 2012. Archaeology: The Discipline of Things. University of California Press.