Archaeologist is a meaningful career although our amazing job is constantly challenging under many respects and it often is physically and emotionally demanding. This is especially true for those among us who work in the field and even more for archaeologists who are part of projects, like ours, that investigate very remote and fragile geographical areas. And Sudan was in the past, and is clearly still nowadays, an extremely fragile and unpredictable land both in terms of its environmental and climatic conditions, resources, borders, cultural entities, and interregional socio-political relationships. This can be certainly attributed to the vastness of the country and to its long history of intricate and fragmented cultural, linguistic and religious identities which intertwine with an alike complex mosaic of many diverse and complementary landscapes and ecological niches.
Having said that, with these words, I do not want in any way to justify under the umbrella of the general geo-political complexity of the country, the horrible conflicts and fighting that have been going on in the capital city of Khartoum for days now and that make us seriously fear for the lives of our colleagues and friends there, as well as for the possibility of being able to return to work in our beloved Sudan. This insane war has in fact to do with geo-political balances and power games, and at the moment I consider myself blessed to have still had the privilege of having a successful field season there and hence returning just in time to get safely back home, in Munich – our team left Khartoum just five weeks ago, before all this catastrophe started!
Even more grateful we can consider ourselves, although in the last days ours is not just normal business, to manage to successfully export to Germany all our bunch of samples for laboratory analysis. And this was possible as usual thanks to the kind cooperation of our inspector and friend, Huda Magzoub, and of the NCAM in Khartoum.
A few days ago, just before the Easter break, my desk, or rather, every flat surfaces of my office (!) was still covered by a multitude of tiny, beautiful ceramic sherds for analysis. These samples, selected during the two weeks of field season I spent in Ginis, include a total of 131 specimens, attributable to Nubian-style and Egyptian-style ceramics made in Nile clays. Of these, 129 were eventually destinated to INAA and have been already successfully delivered to the AI of Vienna, where they are now in the wise hands of our colleague, Johannes Sterba. 28 intended for Optical Microscopy were additionally sent to Prague and are currently in the process of being manufactured as polished thin sections.
The sample incorporate mainly ceramic material from the Bronze Age sites in the area of Ginis and Attab, and specifically from the two excavated settlement sites of Attab West 001 ( 60 sherds in total) and Attab West 002 = Vila Site 2-S-54 (17 sherds in total), and from the cemetery GiE 003 in Ginis East (44 sherds in total). To these are added 10 samples from a surface collection conducted by our PI, Julia Budka, in the district of Kosha East (Kerma cemetery 3-P-7).
All in all, this material is highly significant in terms of diachronic representativeness of the area, covering in fact a wide time span from the Middle Kerma to the Kerma Classic and up until the 18th Dynasty of the New Kingdom period. Furthermore, these samples appear extremely promising with our general aim of understanding cultural diversity and investigating interregional and local social relationships between Egyptian and Nubian entities, comprising exceptionally not only Nubian Kerman material but also ceramic wares and types potentially attributable to the Pan-Grave cultural sphere (from Trench 5 at GiE 003).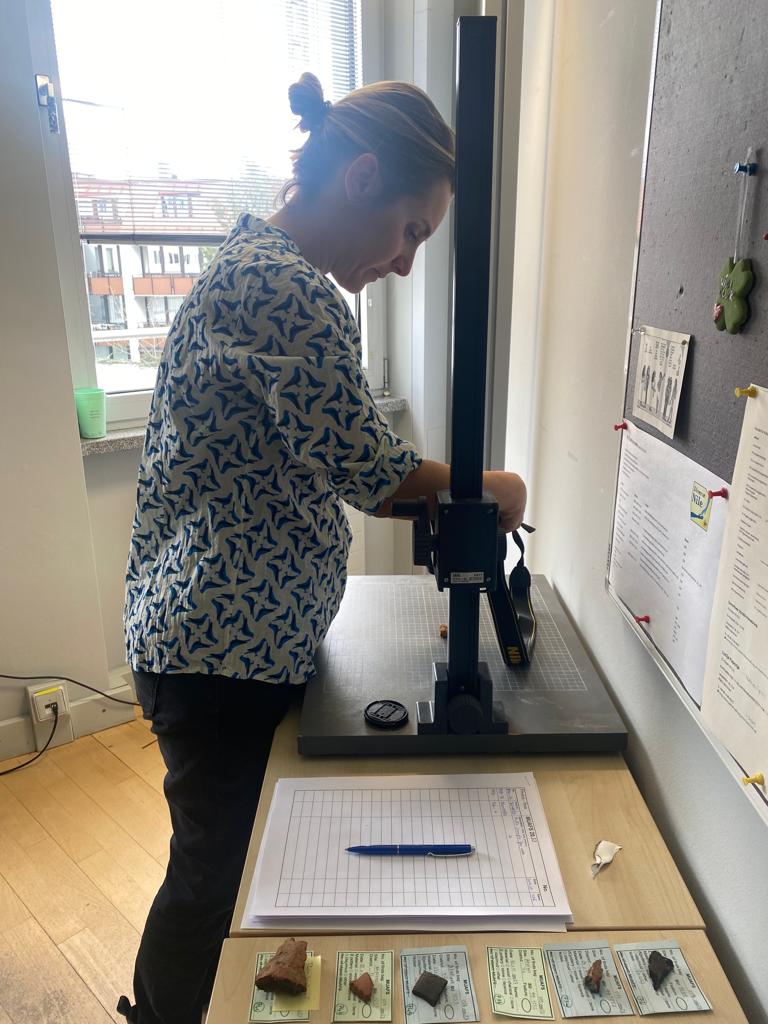 I was glad to once again have a pleasant déjà vu of myself photographing, documenting, and packing these tiny samples that are now waiting to be analysed, while I am now busy in entering each of them in our Samples FileMaker DB.
Looking forward to revealing more about the inwardness of these tangible precious testimonies of Nubia's Bronze Age material culture, I wish a bit of rest, peace, and hope for our beloved Sudan and mostly for all people and citizens who are now in danger because of this unjust violence.