Week 4 of our 2023 field season has just ended – time passes very quickly and there are three more weeks to go!
Much progress was made this week – especially because we are currently working both on the west bank in Attab, at site AtW 001, and in the Kerma cemetery GiE 003 on the east bank.
Chloe Ward, Mohamed Soubho and I managed to come close to an end at the intriguing settlement site AtW 001. We cleaned further substantial mud brick debris and revealed faint traces of mud brick walls – clearly datable to the 18th Dynasty.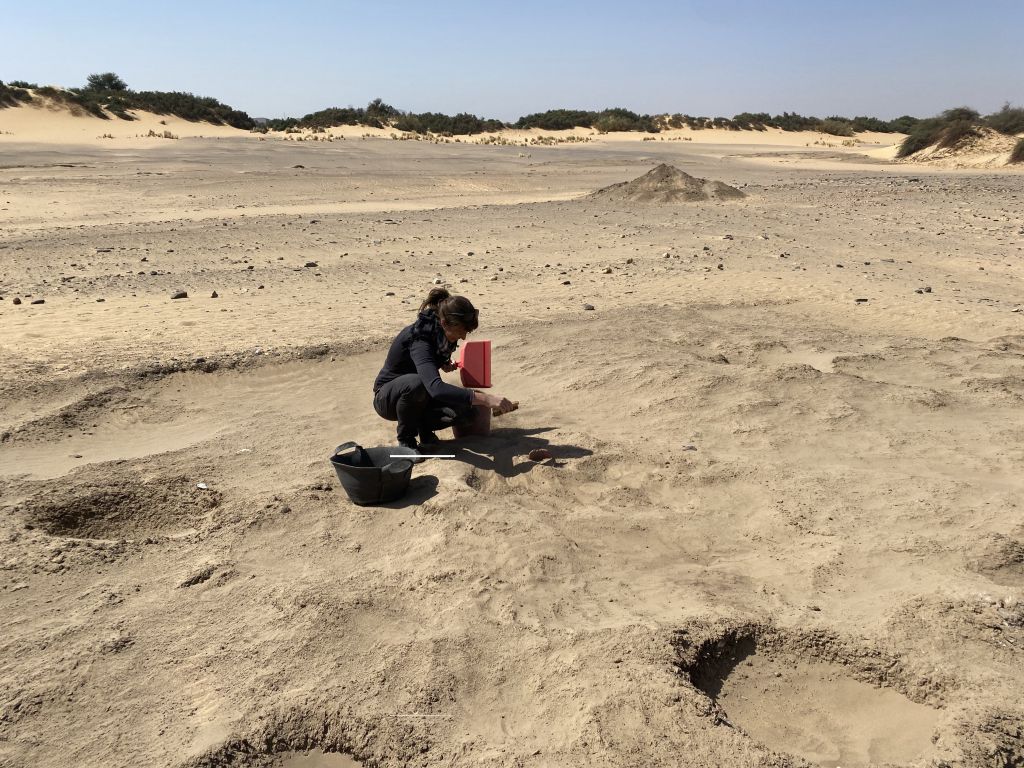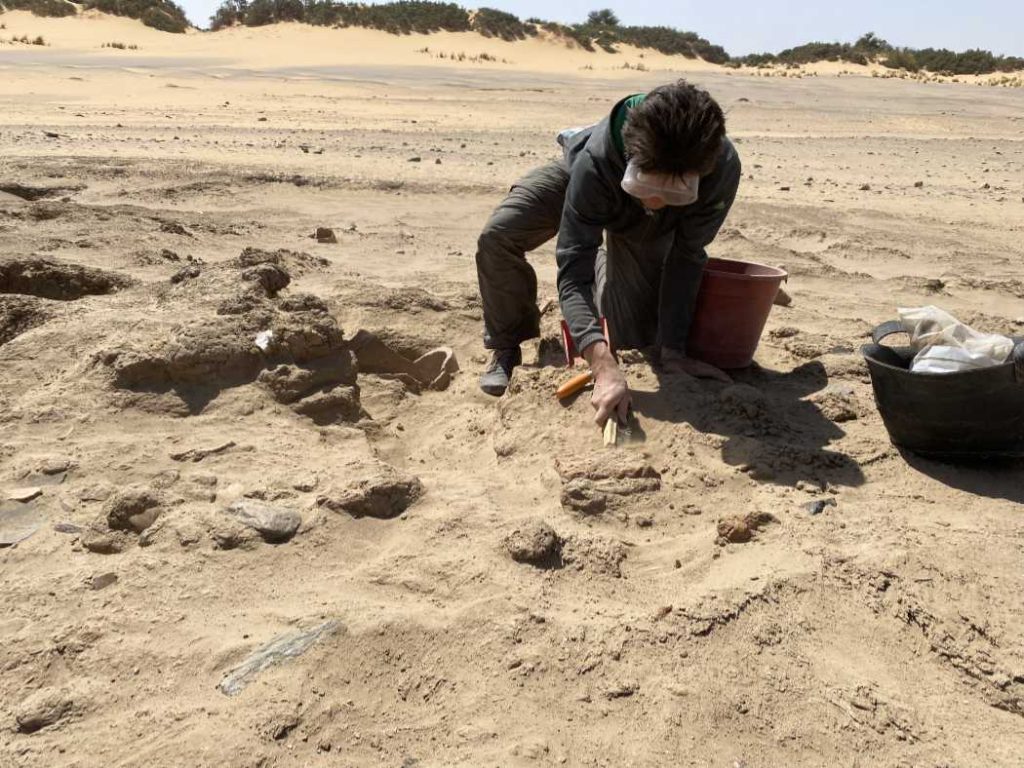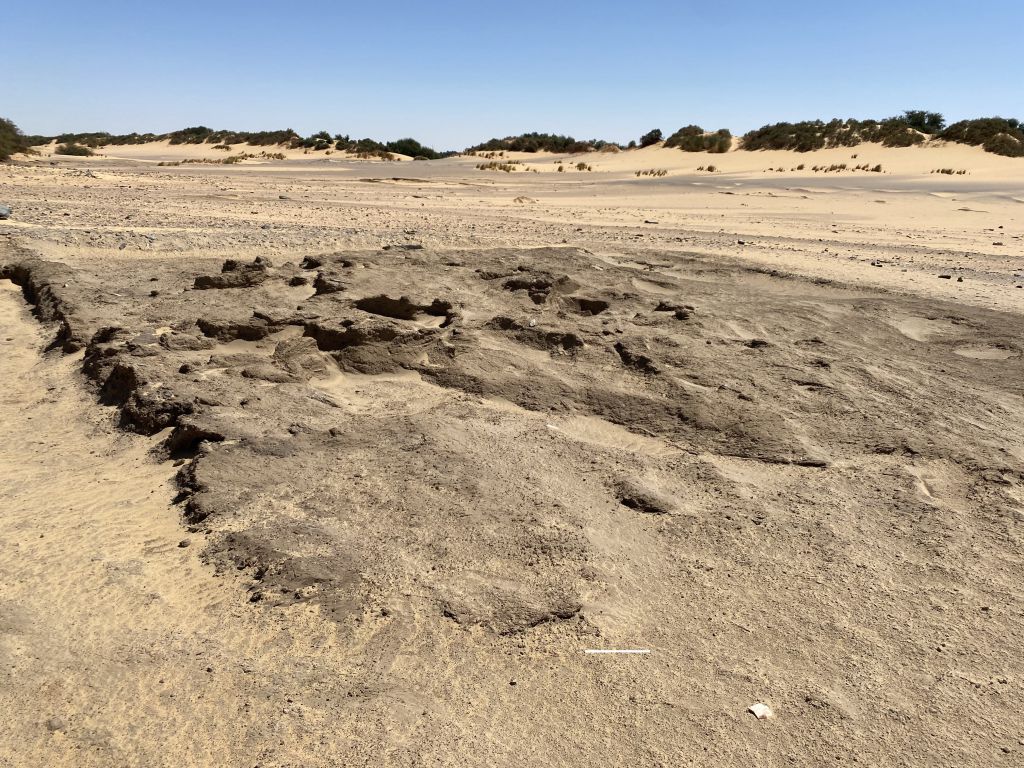 Unfortunately, we also had an incident of looting at the site this week – one complete pottery dish was pulled out from its location and an intact zir vessel was partly ripped apart. We reported this event to the tourism police and hope it will not happen again! Thankfully the vessels were left on site, obviously the looters were looking for gold or hidden treasures and did not like the ceramics which hold such great significance for us archaeologists.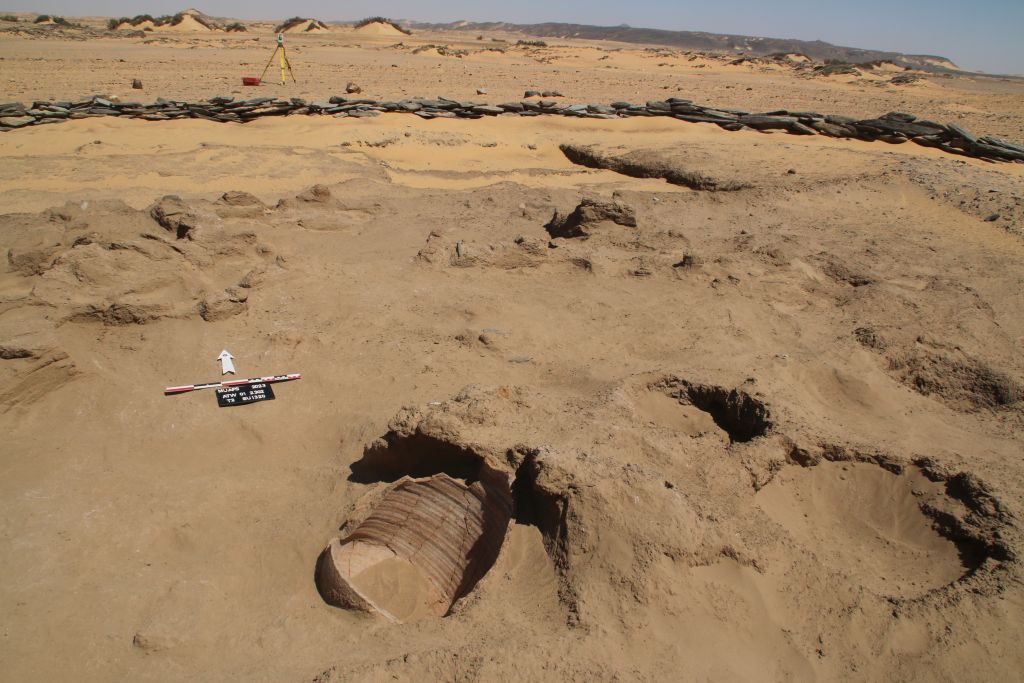 The zir vessel still poses several questions – it seems to have been still in situ in a kind of silo or room, but this needs to be checked early next week. The same holds true for confirming the stratigraphic connection of our lowest ashy layer exposed in 2023 with the one excavated in 2022 in Trench 1.
All in all, AtW 001 yielded a large number of mud bricks, mostly as mud brick collapse but fortunately also as some in situ walls as well as considerable amounts of stone tools, ceramics, clay weights and various animal bones. Sheep/goat and donkey seem to be the dominant species, but some fish bones already attest to more complexity of the animal remains.
Contemporaneously to our work in AtW 001, Kate Rose, assisted by Samer Ali, was busy in taking drone aerial photos (a big challenge in this windy weather) and especially measurements with the Trimble Catalyst antenna. She focused on dry-stone walls in Attab and Ginis – some of which are clearly Kerma in date, others presumably of New Kingdom origin and some probably as late as Napatan.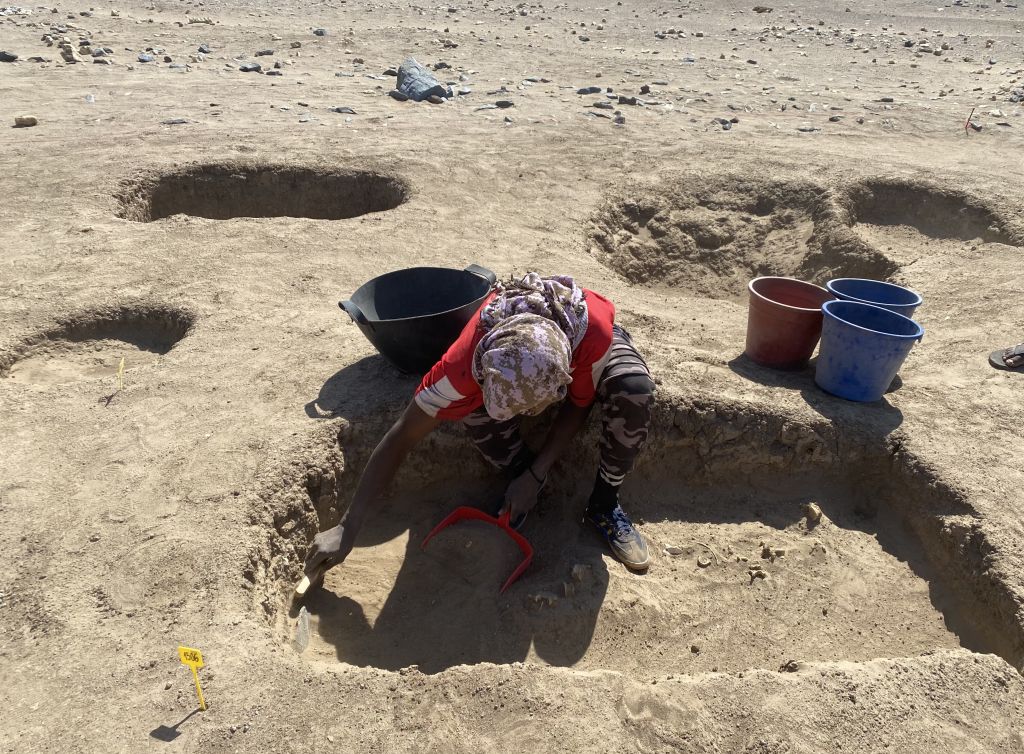 At the Kerma cemetery GiE 003, three new trenches were set up and the work supervised by Jose M.A. Gomez and Huda Magzoub focused on Trench 3 were a number of rectangular Classic Kerma burial pits with trenches for funerary beds were exposed. Our gang of local workmen is well familiar with this type of tombs from last season. There were already some interesting finds like one steatite scarab and one ivory bracelet, and more are to come! Especially intriguing is the abundant evidence for looting – maybe it will be possible to confirm my hypothesis from 2022 that most of the plundering happened in Medieval times.
Much progress was made for all work packages of the ERC DiverseNile project this week – the diversity of settlements (WP 1), cemeteries (WP 2), the material culture (WP 3) and the landscape of the Attab to Ferka region (WP 4). We have already plenty of data for post-excavation processing back home in Munich and thankfully we still have three more weeks here in the beautiful landscape of Attab and Ginis!