Our week 2 of the 2023 season has just ended – having been an intense week with several challenges. First, our totalstation suddenly did not work like it should and we needed to send it to Khartoum – it will be fixed, but of course this meant a stop for excavations at AtW 001. On the positive side, two of our DiverseNile team members joined us this week – Jose and Kate have arrived and are now supporting us in multiple ways. Kate had to fix technical issues with our drone and the new Trimble Catalyst Antenna, but is now all set and started her work focusing on documenting the landscape.
Before we stopped at AtW 001, the results were really impressive. We found several circular or oval-shaped fire pits and excavated more of the mud brick debris on top of the mound in Trench 2. More animal bones and complete vessels showed up. One particularly nice context was an area adjacent to the solid mud brick debris, where one deep bowl, one beer jar, one small pot stand and a lower part of the beer jar were found smashed below mud bricks (Fig. 1). Interestingly, the mud brick debris comprised both red bricks and ordinary mud bricks. The current hypothesis is that the red bricks are simply burnt from a use close to a fire place or possibly kiln.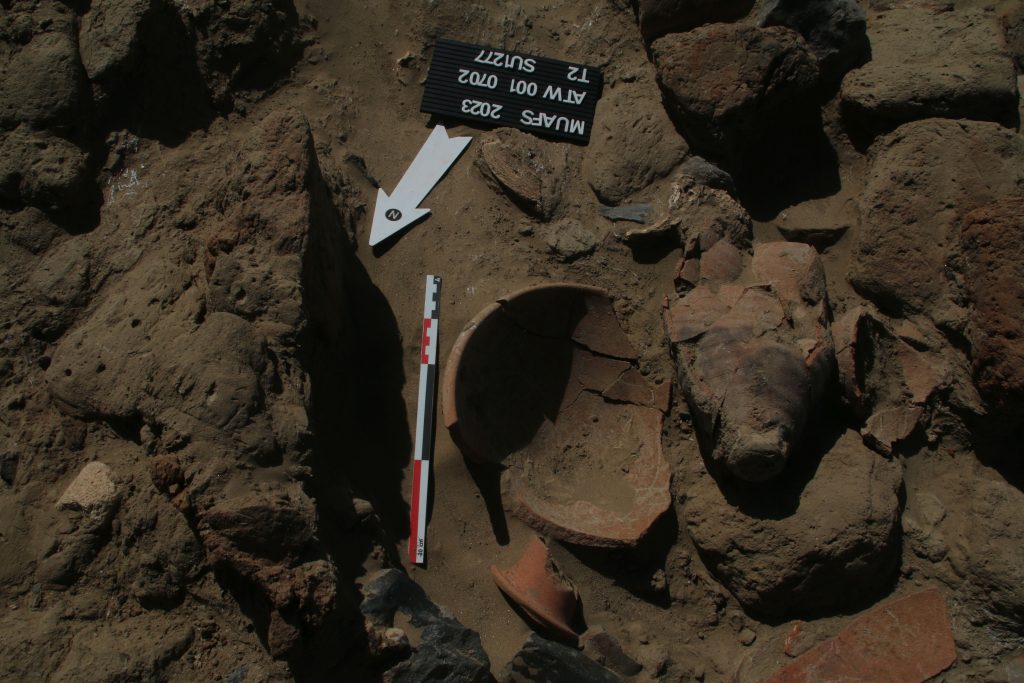 The stop of fieldwork had the advantage that I could invest much needed time for the pottery processing – we have not only large amounts of sherds, but especially a considerable number of complete or almost complete vessels. These all need to be first washed and then reconstructed. Jose kindly helps with the task of reconstruction (Fig. 2) and he also started drawing the first pieces from the uppermost layers.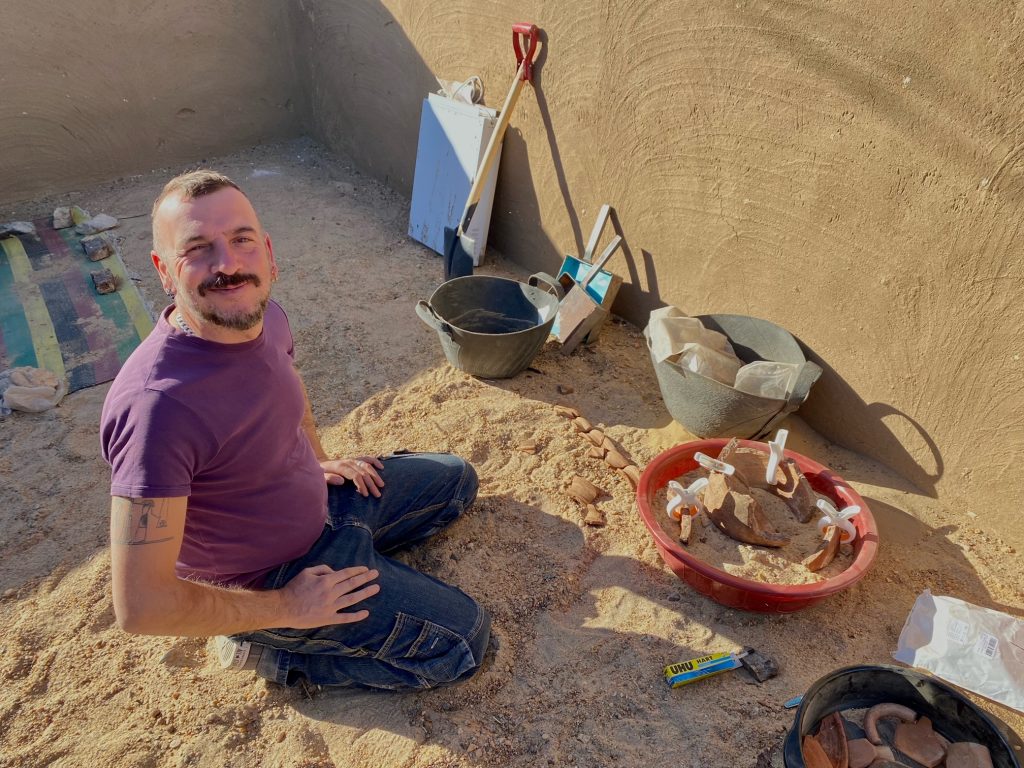 Apart from pottery, we mostly have stone tools and re-used sherds and clay weights (including net weights) among the finds. Sofia is updating our find list and also describing the stone tools in our Filemaker database.
Until our totalstation is back from Khartoum, we will focus both on find processing and on drone aerial photography as well as taking measurements with the new Trimble Catalyst Antenna. In order to combine the latter also with some surface cleaning of Bronze Age structures, I chose an area in the district of Attab West in Foshu – this is a densely used area during Kerma times adjacent to the major paleochannel.
While Kate is taking drone photos, Chloe, Jose and I were cleaning the intriguing site 2-S-54, described by Vila as a New Kingdom house with mud bricks supported by schist stones, from wind blown sand (Fig. 3). This building, measuring 6.5 x 3.5m, is located on the south side of a rocky outcrop within the paleochannel on a quite steep slope.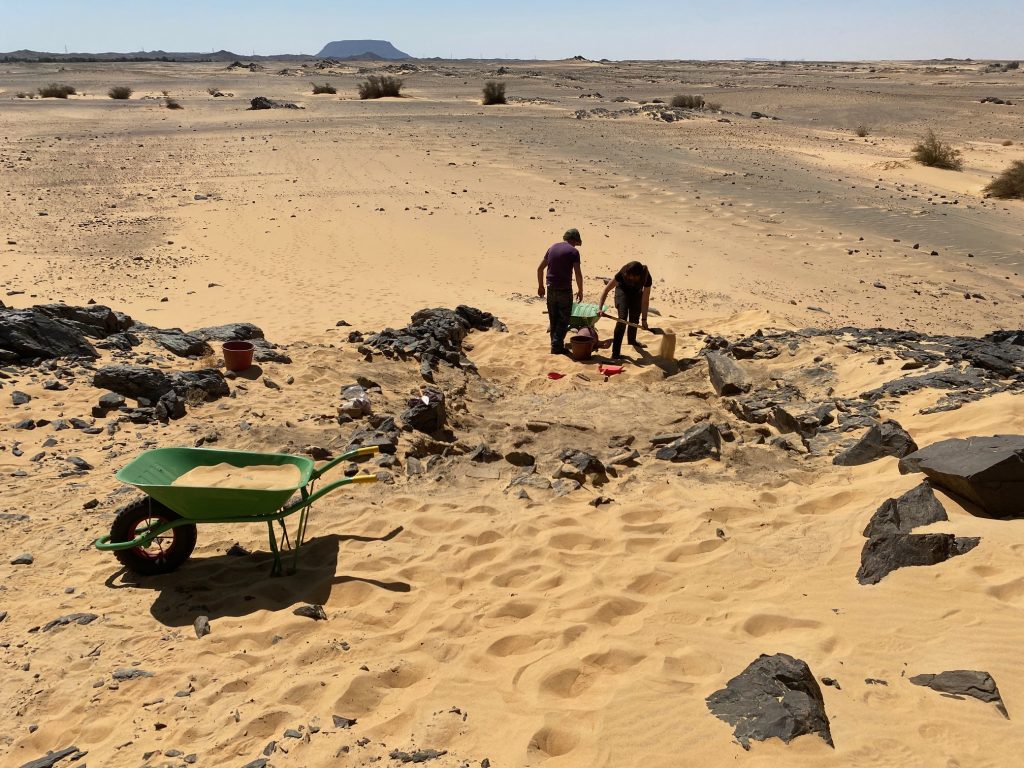 The task of removing 80cm of windblown sand was extremely rewarding – we revealed in the interior of the building a dense mud brick debris layer as well as occupation deposits and several internal mud brick walls. We documented everything in 3D using photogrammetry (Fig. 4) and will continue excavating this domestic structure. The pottery found so far associates the use of this site with the early 18th Dynasty.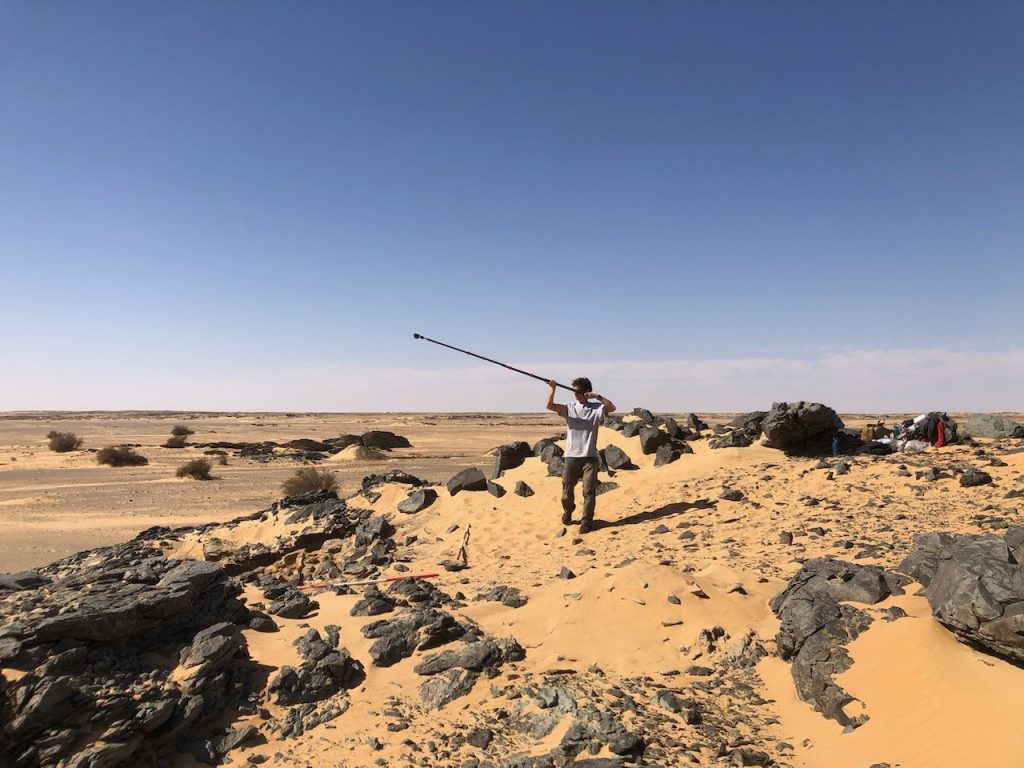 Thus, despite of all the technical challenges and modified working plans, we managed to get much work done in week 2. Hoping we will soon return to site AtW 001 with our workmen (and the totalstation), I am for now very much looking forward to investigating 2-S-54 in more detail.