The MUAFS 2020 season will be officially closed today – we arrived safely in Khartoum yesterday and will now finish all the paperwork.
The last days at Ginis were busy, finishing off the survey, packing and registering the finds from this season. A more concise summary of the 2020 season will follow shortly, but here are some observations regarding our survey.
Like in 2019, one particular focus of our survey was on the state of preservation of the sites nowadays – unfortunately, at almost all sites, we observed modern destruction and/or plundering. Especially drastic were destructions because of road building, the electricity posts and modern gold working areas.
One particular striking example is the large tumulus within the Post-Meroitic site 3-P-1 at Kosha East. This monumental tumulus, comparable to the ones at Ferka, but also to the famous tombs at Qustul and Ballana, has completely gone by now. According to information kindly given by local villagers, it was removed in 2008.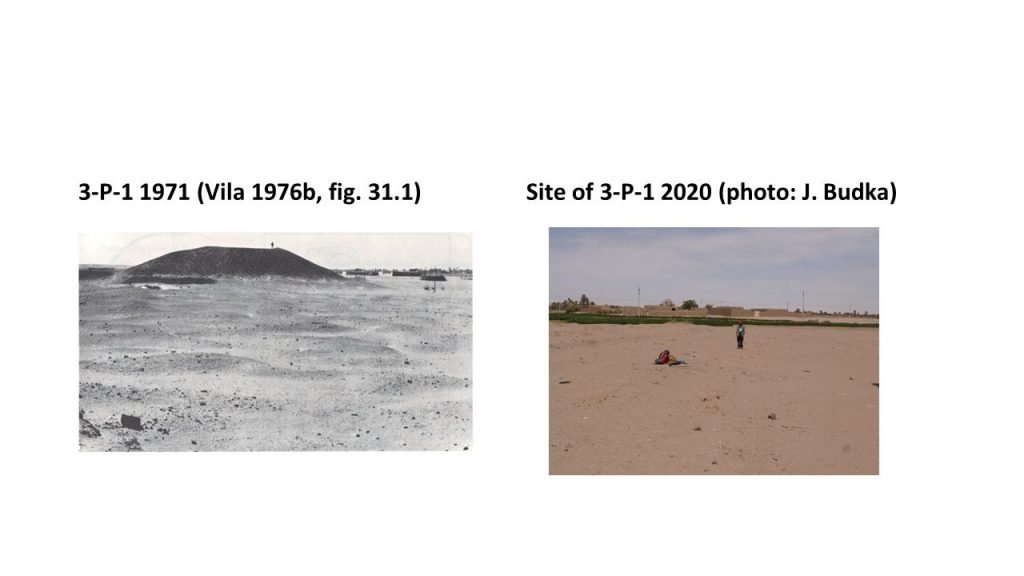 Where Jessica is standing in this photo, there used to be an elite tomb monument dating back to Post-Meroitic times. Large parts of cemetery 3-P-1 are now under modern fields; the line of electricity cuts the southern extension of the site. The nearby Kerma cemetery was affected by the construction work of the road to Wadi Halfa and the Neolithic sites located in the hills above the Kosha plain just 300m to the southeast are strongly influenced by modern gold working.
Altogether, as successful as our 2020 survey was, re-locating 40 sites of the ones documented by Vila and finding a number of previously unrecorded sites, we were also faced with very frustrating news and massive destruction of the archaeological monuments. There clearly is the urgent need to undertake cultural heritage actions in the region, but this is something where MUAFS will need help and support from several authorities.