In the framework of the DiverseNile project, I have introduced the application of 'contact space biographies' as a new concept in the study of intercultural encounters in the Middle Nile. We will specify the question of cultural encounters through the distribution of the sites and their duration, settlement infrastructures, building techniques, production activities and technologies, trade, diet, material culture, burial customs, religious practices and social structures. The importance of peripheral areas, like the Attab to Ferka region, for our understanding of cultural formations will be stressed. In line with this, the DiverseNile Seminar Series 2021 focuses on cultural diversity in Northeast Africa, giving several case studies from various perspectives.
Our next presentation, to be held tomorrow by Loretta Kilroe, will introduce an exciting example of so-called 'provincial' Kerma remains in the Northern Dongola Reach.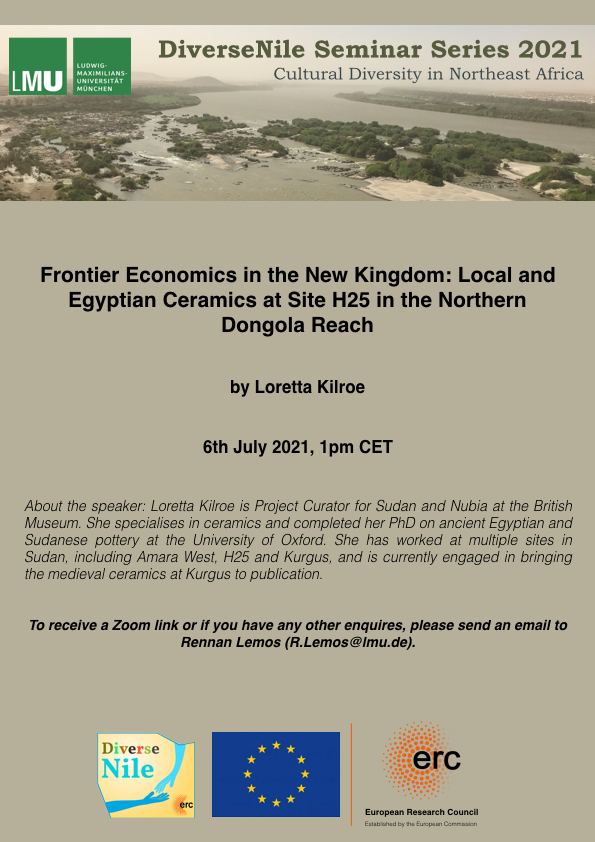 Site H25 was partly excavated in the last years and yielded settlement remains and evidence from the Kerma, New Kingdom and Napatan eras (Ross 2014; Porter 2019; Kilroe 2019). The site is, among others, shedding new light onto trade networks in New Kingdom Nubia. Because Loretta is an expert on ancient Egyptian and Sudanese pottery, she will focus tomorrow on ceramics and what they can tell us about frontier economics.
I am personally very much looking forward to this exciting presentation about an as yet little known but very important site! As usual, last minute registrations are still possible and highly welcome!
References
Kilroe, L., 2019. 'H25 2019 – the ceramics,' Sudan & Nubia 23: 81‒84.
Porter, S., 2019. 'Excavations at H25 in the Northern Dongola Reach,' Sudan & Nubia 23: 77‒80.
Ross, T.I., 2014. 'El-Eided Mohamadein (H25): A Kerma, New Kingdom and Napatan settlement on the Alfreda Nile,' Sudan & Nubia 18: 58‒68.