Tomorrow will be another DiverseNile Seminar! We will now focus on the First Millennium BCE in Kush. I am delighted that Kathryn Howley is going to talk about an exciting topic, "Performance and Appearance: Manipulations of Egyptian Style and Ritual at Amun Temples in Napatan Nubia."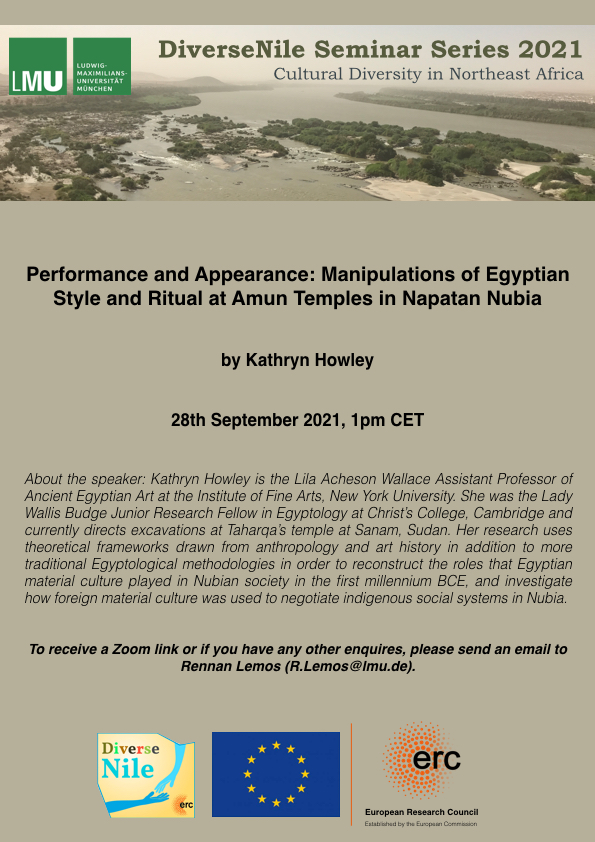 I have known Kathryn since many years and because I am currently in Luxor (for the Ankh-Hor Project and the South Asasif Conservation Project), I especially remember our encounter in one of the international conferences about "Thebes in the First Millennium BCE" held back in 2012 in Luxor. We share common interests since also Kathryn is particularly interested in questions of materiality and intercultural interaction.
Since 2018, Kathryn is the Lila Acheson Wallace Assistant Professor of Ancient Egyptian Art at the Institute of Fine Arts, New York University. I always enjoy discussing things with her and very much appreciate her stimulating application of theoretical frameworks drawn from both anthropology and art history on topics from Egypt and Sudan.
Kathryn is currently preparing her first book, The Royal Tombs of Nuri: interaction and material culture exchange between Kush and Egypt c. 650-580 BC – a study many of us are very much looking forward to. Her paper tomorrow will include ideas deriving from her current fieldwork project in Sudan at Taharqa's temple at Sanam – without doubt much food for thought!
Do not miss Kathryn's lecture tomorrow if you are interested in First Millennium BCE cultural diversity and interactions between Egypt and Sudan! As usual, late registration via email is still possible.