I am delighted that our next DiverseNile Seminar is approaching. Frederik Rademakers will be speaking about brand-new research on copper production in the New Kingdom.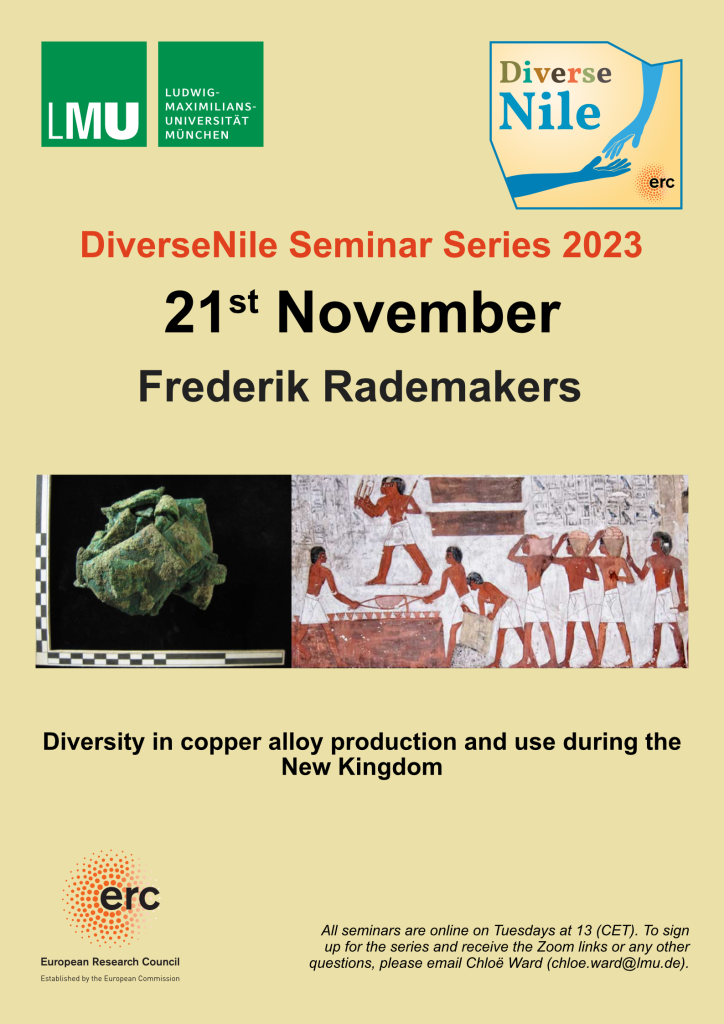 Frederik is currently employed at the British Museum, Department of Scientific Research as a metals specialist. His core research focus lies on ancient copper metallurgy in the Nile Valley and central Africa. Frederik's approach is a combination of analytical studies of archaeological remains (from museum collections as well as ongoing excavations, e.g. Kerma and Amara West in Sudan) and experimental archaeology. Through the latter, we have been frequently in contact in the last years, and I can very highly recommend his seminal publications, e.g. Rademakers et al. 2022.
I am especially happy that the upcoming presentation by Frederik on November 21, 2023 will nicely connect to our previous DiverseNile Seminar 2022, focusing on landscape and resource management. In general, the procurement of materials and management of resources are topics which have gained popularity in archaeology in recent years, also in Egyptian and Sudanese archaeology. Modern multidisciplinary approaches enable us to investigate objects' complete chaîne opératoire. An excellent example for these new advances is the study of copper in Egypt and Nubia (see Odler 2023) and in particular copper production at Kerma, a topic Frederic is an expert in (Rademakers et al. 2022). From the New Kingdom town of Amara West, a recent study in which Frederik was one of the main persons involved has provided important insights into the complexity of production chains, the question of material availability and supply in colonial Nubia and the direct comparison with Egypt (Rademakers et al. 2023).
In the upcoming DiverseNile Seminar, Fredrik will discuss unpublished material and data for the New Kingdom – nothing you want to miss if you are interested in archaeometry, copper production and interdisciplinary approaches to the topic.
References
Older, M. 2023. Copper in ancient Egypt: before, during and after the pyramid age (c. 4000-1600 BC), Culture and History of the Ancient Near East 132, Leiden; Boston.
Rademakers, F. W., Verly, G., Degryse, P., Vanhaecke, F., Marchi, S. and C. Bonnet. 2022. Copper at ancient Kerma: a diachronic investigation of alloys and raw materials, Advances in Archaeomaterials 3 (1), 1−18.
Rademakers, F., Auenmüller, J., Spencer, N., Fulcher, K., Lehmann, M., Vanhaecke, F. and Degryse, P. 2023. Metals and pigments at Amara West: Cross-craft perspectives on practices and provisioning in New Kingdom Nubia, Journal of Archaeological Science 153, 105766. 10.1016/j.jas.2023.105766.