About two years ago, at the height of the Covid pandemic, the idea was born to initiate a scientific cooperation with our colleagues Fabian Dellefant and Melanie Kaliwoda from the Department of Earth and Environmental Sciences of the LMU and test together a new analytical methodology for archaeological ceramic material, namely Raman Spectroscopy.
Specifically, we aimed to first perform Raman spectroscopy towards carbon-bearing pottery and yields insights on the application of this technique for estimating maximum firing temperatures of Late Bronze Age vessels from Upper Nubia, comparing two site-specific data sets of samples, from the 18th Dynasty (1550–1290 BCE) at Sai Island and Dukki Gel (Kerma).
The encounter between natural sciences and archaeology was successful and from this idea an inspiring project developed, culminating in the publication of the paper: "Differentiation of Late Bronze Age Nubian- and Egyptian-style ceramics from northern Sudan by manufacturing firing temperatures using Raman spectroscopy", in Journal of Archaeological Science: Reports, as part of the Special Issue Materiality of Earth edited by Pamela Fragnoli, Elisa Boccalon, Susanna Cereda, and Giovanna Liberotti, whom we all deeply thank for inviting us to contribute to this SI.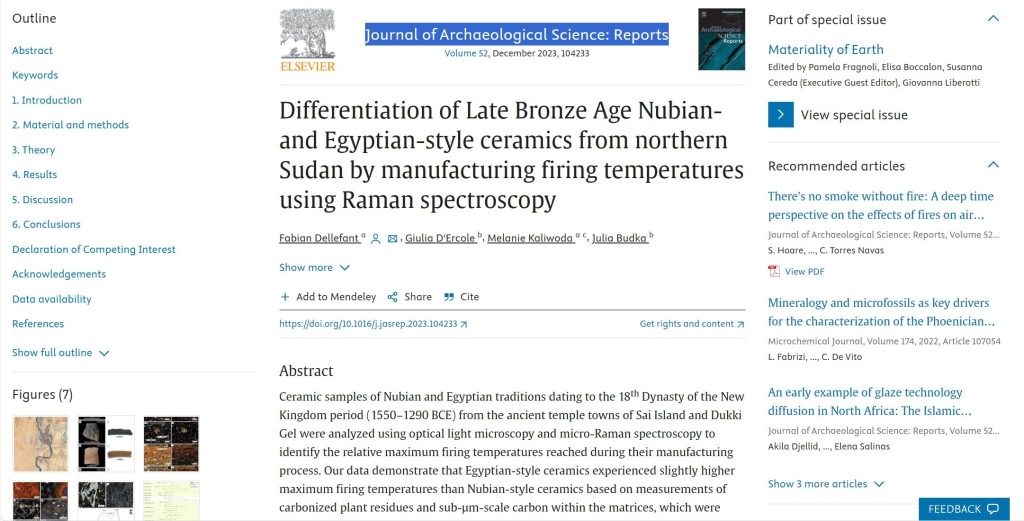 In testing Raman spectroscopy, our principal aims were to search for differences in producing technique and firing temperatures between the Nubian- and Egyptian-style samples; between the samples from Sai Island and those from Dukki Gel; and eventually among the different ceramic wares and types.
Now, as it is often the case, one idea leads to another and while some of the archaeological questions posed in the initial objectives of the work have not yet been fully answered, new exciting questions have arisen during the research and led us to further expand our Raman project into a new spin-off project focused on the investigation of the effects of oxidative weathering in relation to site-specific depositional environment and time.
Generally speaking, oxidative weathering is known to cause significant alteration modifications of the ceramic body after deposition resulting in distorting Raman spectra and potentially leading to an overestimation of the firing temperatures (Deldicque et al., 2023). Although all archaeological ceramics experienced oxidative weathering, our case study showed that the weathering effect was possibly more intense on the Dukki Gel than on the Sai Island samples hence to affect maximum firing conditions.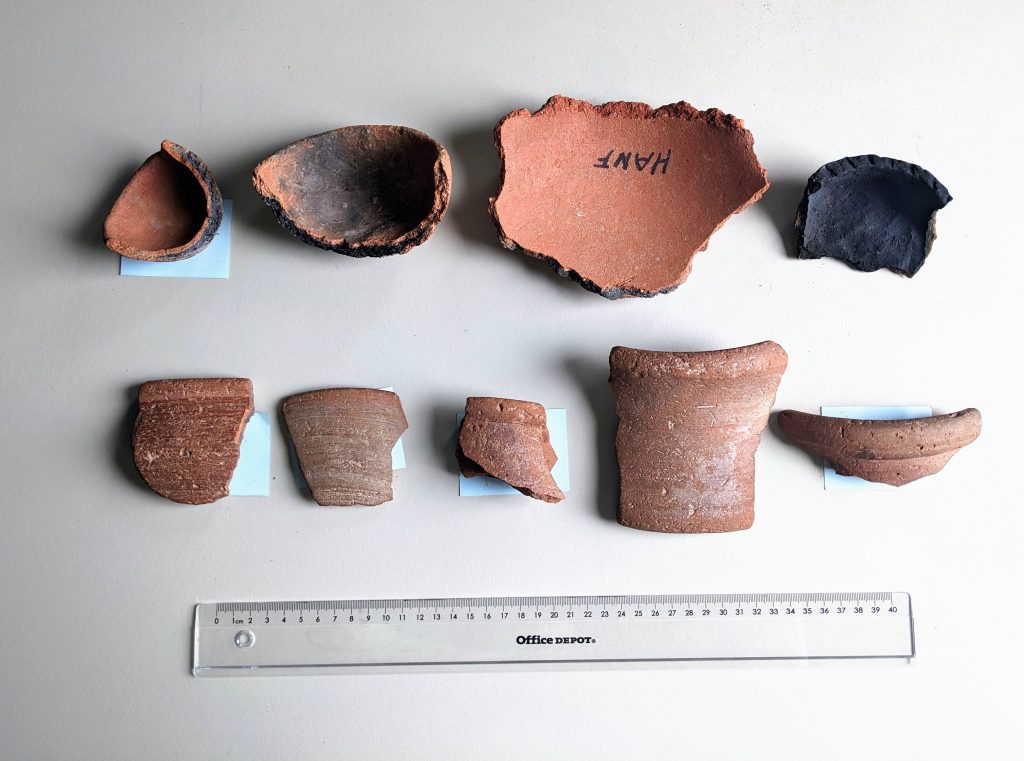 In the coming months, together with Fabian Dellefant, we will particularly focus on this aspect of our research and perform Raman Spectroscopy on new samples, including ceramic sherds that have undergone extremely intensive oxidative weathering and experimental replica which were never exposed to any depositional and post-depositional processes.
Stay tuned to know more about the development of our work!
Reference
Deldicque, D., Rouzaud, J., Vandevelde, S., Medina-Alcaide, M.A., Ferrier, C., Perrenoud, C., Pozzi, J., Cabanis, M., 2023. Effects of oxidative weathering on Raman spectra of charcoal and bone chars: consequences in archaeology and paleothermometry. Comptes Rendus. Geoscience 355, 1–22. https://doi.org/ 10.5802/crgeos.186.