Every archaeologist knows that what we write about the past is mediated by present-day questions, expectations and challenges, but also state-of-the-art documentation techniques. Archaeologists don't simply reconstruct what happened back in the day. Instead, archaeological and historical narratives are essentially modern constructions that can either be repaired or demolished as scholarship moves forward. Archaeological research is also mediated by complex site and object biographies that span thousands of years; e.g., in our case, from the Neolithic to monumental surveys carried out in northern Sudan in the mid-20th century.
To understand tombs, burials and mortuary objects in the region from Attab to Ferka we need to understand the impact of André Vila's work in the region, the epistemological framework from which he was reporting and his methodology. How Vila's work materialise in the landscape directly affect the questions we ask and the methodologies we apply today. Not surprisingly, archaeologists in Sudan usually deal with traces left by earlier archaeologists at various sites, and retracing their steps becomes a fundamental aspect of accessing the past through remaining material culture (e.g., Howley 2018: 86-87).
Vila's survey can be seen as part of a long tradition of large-scale surveys going back to the first Archaeological Survey of Nubia (see Adams 2007). From Dal (the southern limit of Lake Nubia) to Nilwatti Island, Vila identified 462 sites of which 219 sites are within the MUAFS concession (figure 1). These sites were attributed to cultural units, e.g., Kerma, Christian etc. Even though Vila noted that various sites belonged to one or more cultural units, today archaeologists approach those 'units' more fluidly, especially in situations of cultural exchanges, which is especially true for Kerma and New Kingdom sites. On the one hand, revisiting sites surveyed and reported in the 1960s and '70s requires us to contextualise archaeology to 'deconstruct' theoretical biases and ask different questions. On the other hand, Vila's methodology determines the extent to which sites can be explored.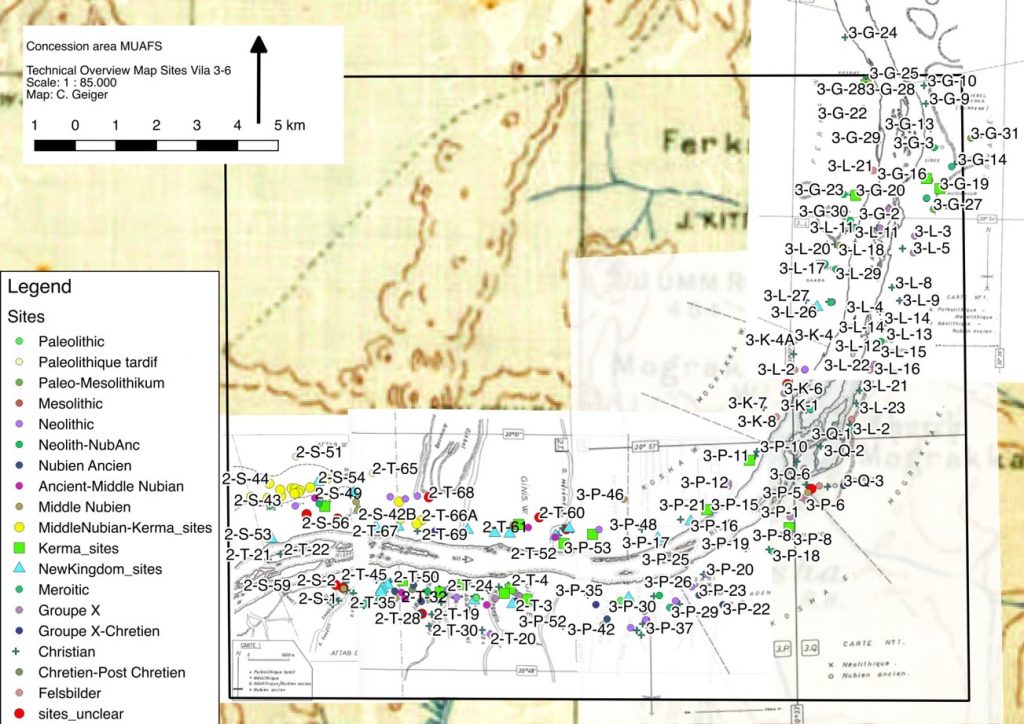 In terms of method, Vila's survey aimed to keep disturbance to sites to a minimum. Test excavations and sampling followed rigid guidelines and excavations were only carried out when cultural affiliations couldn't be distinguished otherwise, e.g., based on surface finds. Cemeteries were approached in a slightly different way. Cemeteries were usually cleared to determine their extent and number of graves at each site. A few graves were fully excavated and recorded, as well as 'peculiar' collective burials (figure 2).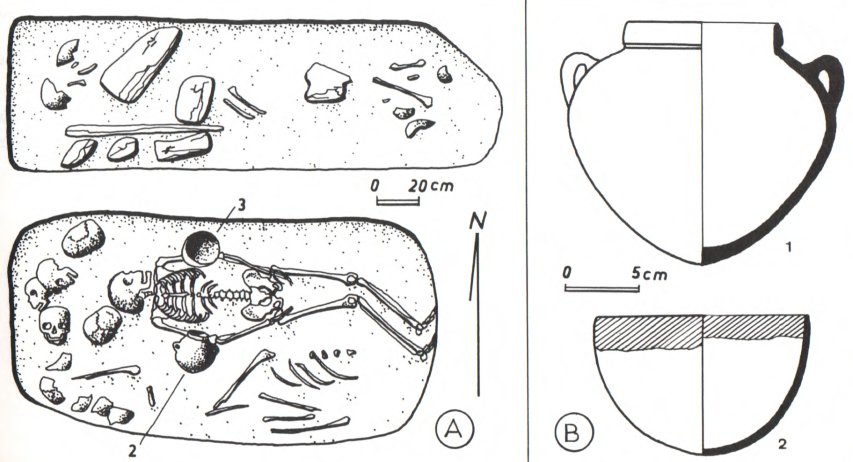 In Work Package 2, I am responsible, among other things, for reassessing the material from such graves. For example, comparison of items from graves in our concession area with objects from other sites allows us to shed new light onto different roles performed by the same types of objects in different contexts (Lemos 2020). Scientific analysis of pottery also allows us to explore the (potentially) alternative role of objects in rituals (stay tune to Giulia D'Ercole's blog!). I am currently collaborating with Kate Fulcher from the British Museum on the topic of mortuary rituals in New Kingdom Nubia based on scientific analysis of artefacts (see Fulcher and Budka 2020 for examples of such approaches).
Working with previously excavated material culture poses several theoretical and methodological challenges, mostly related to the lack of information provided by earlier excavation reports and the problematical categories used to classify things. However, revisiting the burials excavated by Vila holds an immense potential for us to ask different questions within larger-scale perspectives on burial communities, the role of (foreign) objects in the constitution of (local) social relations and identity formation strategies. Comparative approaches to sites and material culture allow us to understand different social realities within Nubia, challenging previous homogenising perspectives on cultural interactions focusing on elite centres. Revisiting sites also holds great potential to unveil things under new theoretical perspectives and using state-of-the-art documentation techniques. This is especially the case because disturbance to sites was limited during Vila's survey, although looting poses an additional challenge to new fieldwork in our concession area.
Ultimately, researching burials and other sites in our concession area and excavating sites firstly worked by Vila presupposes a deep knowledge of the data sets produced by him, what was ignored/discarded, what was considered worth investigating etc. Previous ways of excavating, identifying and reporting sites also determine the extent to which we can revisit them through excavation and comparative analysis.
References
Adams, W. Y. 2007. A Century of Archaeological Salvage, 1907-2007. Sudan and & Nubia 11: 48-56.
Fulcher, K. and J. Budka. 2020. Pigments, incense, and bitumen from the New Kingdom town and cemetery on SaiIsland in Nubia. Journal of Archaeological Science https://doi.org/10.1016/j.jasrep.2020.102550.
Howley, K. 2018. Return to Taharqo's Temple at Sanam: the inaugural field season of the Sanam Temple Project. Sudan & Nubia 22: 81-88.
Lemos, R. 2020. Material Culture and Colonization in Ancient Nubia: Evidence from the New Kingdom Cemeteries. Encyclopedia of Global Archaeology, ed. C. Smith. https://doi.org/10.1007/978-3-319-51726-1.
Vila, A. 1977. La prospection archéologique de la Vallée du Nil, au Sud de la Cataracte de Dal (Nubie Sudanaise). Fascicule 5: Le district de Ginis, Est et Ouest. Paris: CNRS.