Our DiverseNile Online Seminar Series under the general topic of "Cultural Diversity in Northeast Africa" has a wide chronological and regional scope. Tomorrow, we will expand this scope and include Eastern Sudan and the Red Sea. We will continue with an exciting presentation by Andrea Manzo (Università degli Studi di Napoli "L'Orientale") who will speak about "Complexity and Connectivity Between the Nile Valley and the Red Sea in the 3rd and 2nd Mill. BC. A View from Eastern Sudan and Mersa/Wadi Gawasis".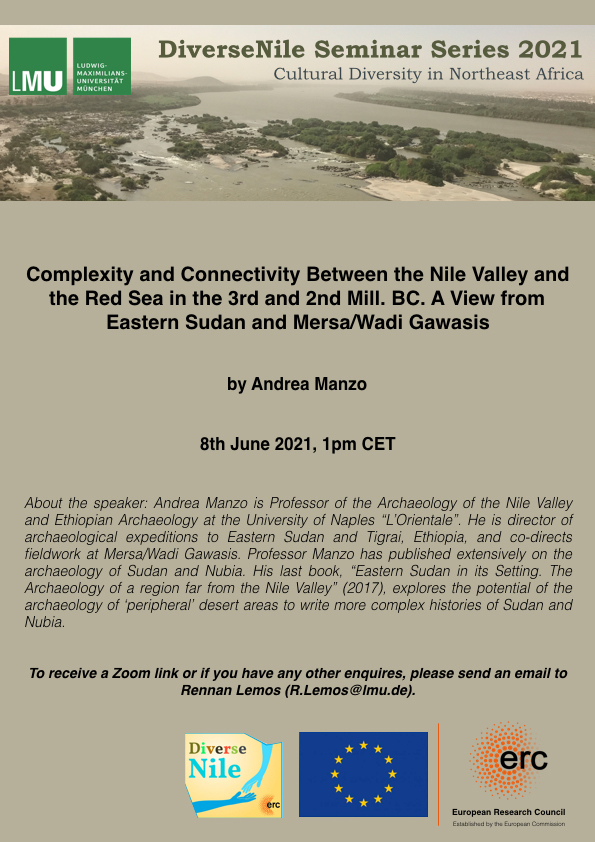 Our speaker is Professor of the Archaeology of the Nile Valley and Ethiopian Archaeology at the University of Naples "L'Orientale" and has a rich record in fieldwork in Sudan and Ethiopia. He is one of the key figures who started to explore Eastern Sudan with state-of-the-art methods and theories in the last decades. Previously considered as "margial" area, simply reflecting our previous focus on the Nile Valley rather than desert areas, we now have a basic understanding of the complex history of this region over the millennia. His excellent book on Easter Sudan is available in Open Access and highly recommended (Manzo 2017; see also Manzo 2019). Most importantly, Andrea Manzo and his team were able to illustrate the high level of connectivity of Eastern Sudan with the Nile Valley and also the Red Sea, in particular Mersa/Wadi Gawasis. His work allows to contextualise several findings which go far beyond the reconstruction of trade but show the importance of areas outside the Nile Valley.
In Eastern Sudan, there are in particular the so-called Gash Group and the Jebel Mokram Group which are highly relevant to our understanding of cultural diversity in Bronze Age Sudan. Especially the Gash group is intriguing, with several sites where locally made and also imported ceramics were found, including "exotic ceramics showing similarities with Kerma, C-Group, Pan-Grave" (Manzo 2017, 33).
Thanks to Andrea Manzo, we now understand Eastern Sudan as a crossroad between the Nile basin, the Eastern Desert, the Ethio-Eritrean highlands and the Red Sea. I'm really looking forward to tomorrow's presentation within the DiverseNile Seminar Series on previously neglected regions far away from the Nile Valley!
Participation is free and registration via email is still possible. See you all tomorrow!
References:
Manzo, Andrea 2017. Eastern Sudan in its setting: the archaeology of a region far from the Nile Valley. Access Archaeology; Cambridge Monographs in African Archaeology 94. Oxford: Archaeopress.
Manzo, Andrea 2019. Eastern Sudan in the 3rd and 2nd millennia BC. In Raue, Dietrich (ed.), Handbook of ancient Nubia 1, 335-365. Berlin; Boston: De Gruyter.