If there is something that the Covid-19 pandemic has taught us is resilience, work flexibility and mostly the capacity to design alternative solutions to meet the various physical restrictions and newly shaped work conditions and needs. Further, we learned the importance of networks and acquiring skills even in remote formats, and that online (and/or hybrid) classes and conferences can give virtuous outputs as those in presence. Within the framework of our project, a successful example of this is certainly represented by our online Diverse Nile Seminar Series 2021 Cultural Diversity in Northeast Africa.
For me operating within the Work package 3 of the project and principally dealing with laboratory analysis on the material data – ceramic samples – collected in the field, the pandemic has inevitably meant that I had to shift my main focus from the study of fresh excavation data to the study of reference collections. Hence, in the last months my work schedule has been mainly centred on documentation, database archive, and comparison among the various ceramic datasets. Also, the obligatory permanence in Germany (missing the field and the warmness of the Sudanese sun) together with the need to work often via remote or, whenever possible from the lab, pushed me to convey my working goals to search for new theoretical approaches and interpretative inputs, eventually enlarging the spectrum of the analytical competencies and methodologies devoted to the study of the ceramic samples.
In these circumstances the idea was born together with our PI and other colleagues from the Department of Earth and Environmental Sciences of the LMU to cooperate and expand the networking between our departments hence to test together a new analytical methodology for archaeological ceramic material, namely Raman Spectroscopy.
This technique, which took its unusual name after the Indian physicist C. V. Raman who was the first to observe Raman scattering in 1928 and won a Nobel Prize in Physics in 1930 for this discovery, is a molecular spectroscopy procedure which provides information about vibration and rotational states of molecules. It works using the interaction of a source of monochromatic light, normally an intensive monochromatic laser radiation, and the matter of the sample. The largest part (99.99%) of the laser light radiates through the sample, a very small proportion is scattered in all spatial directions (so-called Rayleigh scattering), finally an even smaller part is scattered inelastically (so-called Raman scattering). This latter contains information about the sample, its molecular structure (no the single chemical elements) and specific characteristics of the material (see among others, Spieß et al. 1999; also What is Raman Spectroscopy? | Raman Spectroscopy Principle (edinst.com); Raman spectroscopy – Wikipedia).
For the study of archaeological samples like ceramics, Raman spectroscopy has the advantage of being a non-destructive (only a minimum portion of the sample as the same slide of the thin section is needed), rapid and relatively low-priced technique. However, the high potential of this methodology may collide with the natural heterogeneity of most of the ancient, especially hand-made, ceramic manufactures (Medeghini et al. 2014; Vandenabeele & Van Pevenage 2017; see also Legodi & de Waal 2007). This is why, at the moment, our goal consists primarily to observe the methodological potentials of Raman and discern its use for our specific research questions.
For our trial study, we selected ten samples (of which six are ceramics from Sai Island and four from the Dukki Gel's reference collection). All of them are either locally produced cooking pots or other local ware manufactured both according to the so-called Nubian and Egyptian style (Figure 1). In testing this new analytical technique, our main aims are the following: to search for differences in producing technique and firing temperatures/regimes 1) between the Nubian and Egyptian-style samples; 2) between the Nubian samples from Sai Island and those from Dukki Gel; 3) between the Egyptian-style samples from Sai Island and those from Dukki Gel; 4) among the different Nubian types (cooking pots with basketry impressions, incisions, and others). In addition, we also want to look at the behaviour of the organics and their carbonization and check for a possibility of a better characterisation of some opaque mineral phases.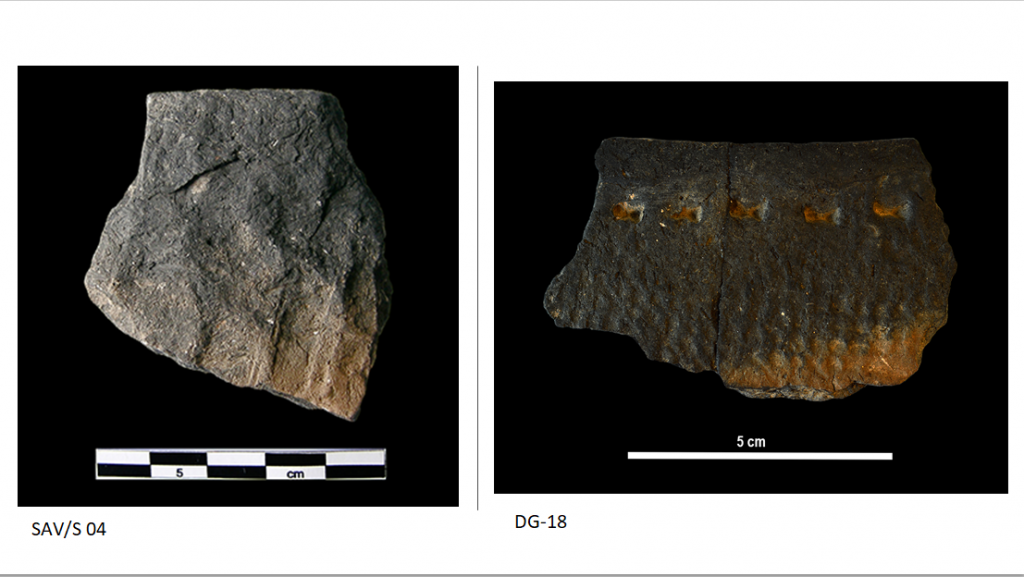 In the last days, together with the colleague Fabian Dellefant, geoscientist and doctoral student at the Department of Earth and Environmental Sciences of the LMU, we have realized high resolution scans of the selected ceramic thin sections and photographed them at the petrographic microscope under different light conditions (both transmitted cross polarized and plane polarized light, and also reflected light) in order to describe and document the areas which we are ultimately going to analyse by Raman.
Stay tuned to know more about our ongoing work and first results!
Selected references and links
Legodi, M. A. &, de Waal, D. 2007. Raman spectroscopic study of ancient South African domestic clay pottery, Spectrochimica Acta Part A: Molecular and Biomolecular Spectroscopy, 66, Issue 1, 135-142.
Medeghini et al. 2014. Micro-Raman spectroscopy and ancient ceramics: applications and problems. Journal of Raman Spectroscopy, 45, Issue 11-12, Special Issue: Raman in Art and Archaeology 2013, 1244-1250.
Spieß, G. et al. 1999. Eine einfache Einführung in die Raman-Spektroskopie. LMU. Die quantitative Analyse (uni-muenchen.de).
Vandenabeele, P. & Van Pevenage J. 2017. Raman Spectroscopy and the Study of Ceramic Manufacture: Possibilities, Results, and Challenges. In Hunt, Al (Ed.) The Oxford Handbook of Archaeological Ceramic Analysis.
What is Raman Spectroscopy? | Raman Spectroscopy Principle (edinst.com)