I am excited to announce the next DiverseNile Seminar for Tuesday, 5 December. Amanda Ford Spora will talk about her research with replicas of Napatan shabti figurines.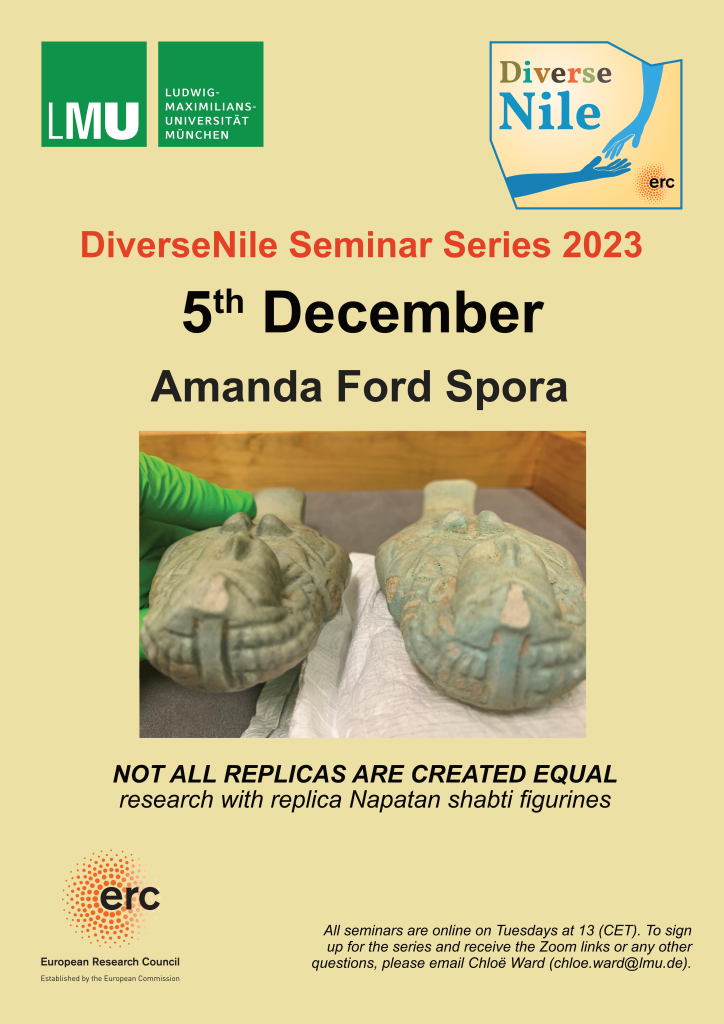 Amanda is currently a PhD candidate at the University College London. She is a community archaeologist with fieldwork experience in Sudan, especially at Mograt Island.
Her exciting research is "about co-creative meaning making using digitally produced replicas, and the process that non-professionals and professionals engage with together, to manifest authentic narratives of the ancient past." The shabti figurines she is using for this include Napatan shabtis, of which the originals are currently in the UK. Amanda has undertaken research with teenagers in Sudan, Australia and United Kingdom, last but not least also to raise more awareness of the rich and endangered Sudanese heritage.
Her research fits perfectly into the agenda of the ERC DiverseNile project – as Kate Rose outlined in a previous blog post, we are also using the rich potential of 3D printing ancient artifacts. We are in particular interested in the implications these replicas hold for education and outreach, the accessibility of archaeological heritage, and explorations in experimental archaeology.
Speaking about education, I would once more like to advertise the fantastic recent volume "African Archaeology in Support of School Learning" – these contributions and also the splendid introduction are very inspiring and underline the wide-ranging relevance of our research (see also our article on the reconstruction of lived experiences in Sai City during the New Kingdom).
However, we must not forget the current challenges of school education in Sudan after more than 7 months of war. With an estimated 19 million children out of school, the country is facing a major education crisis. In a recent blog post, solutions to revive the education sector were proposed – I heartfully wish that the wonderful and amazingly resilient people of Sudan will achieve the revival of their educational sector by means of collaborative efforts. For this, they should receive as much international support as possible – and maybe also archaeology in Sudan and especially community archaeology can help a little bit to overcome this crisis.