Together with a fantastic team of LMU students, including our student assistant Caroline and supported by our PostDoc Giulia D'Ercole and Hans Stadlmann, I spent the last weekend at Asparn (Austria), at the MAMUZ museum and had the pleasure to participate once again in the experimental archaeology class hosted by the University of Vienna (many thanks here to all of the colleagues, especially to Mathias Mehofer).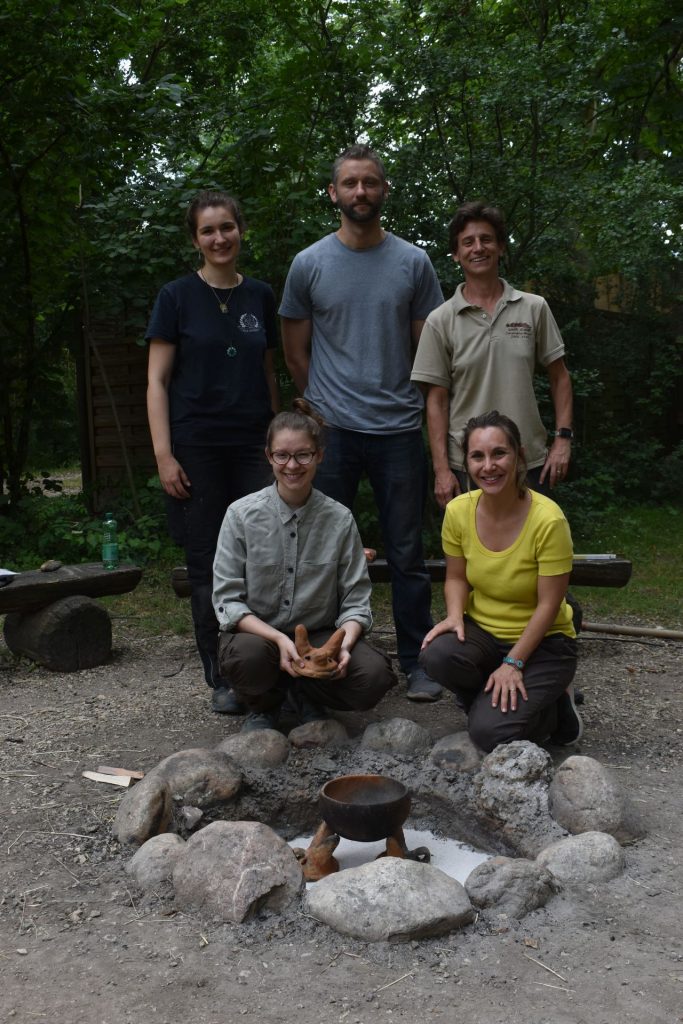 Our team from LMU was enforced by our dear friends and colleagues Vera Albustin, Ludwig Albustin, Michaela Zavadil and Su Gütter – loads of thanks to all of them! It was not just a very productive weekend but also highly enjoyable.
Following up on our results from the last year, especially on firing pottery with animal dung, we started with producing some replicas of Egyptian and Nubian vessels on Day 1. Most importantly, we could, for the first time, work with real Nile clay. Earlier this year, Giulia had revisited the local potters at Abri (for her last visit in 2014 see the AcrossBorders blog) and they kindly gave us some clay, tempered with sheep/goat dung and ready for use. We exported this Nile clay and brought it to Asparn. This new material was strikingly different to the modern clay we normally use for our replicas! Vera struggled with the very instable paste, making the forming process a real challenge (and a mould necessary at the end). She produced a very nice open bowl and a small beaker which was later red burnished. Giulia also made a small test cup, intended to study the fracture of the vessel after firing.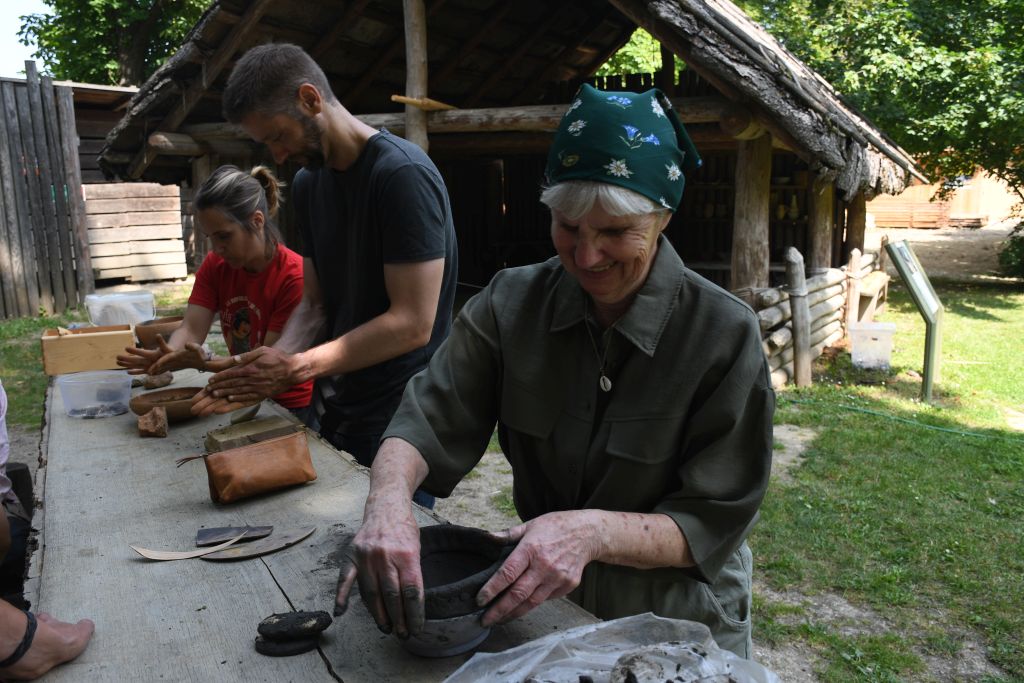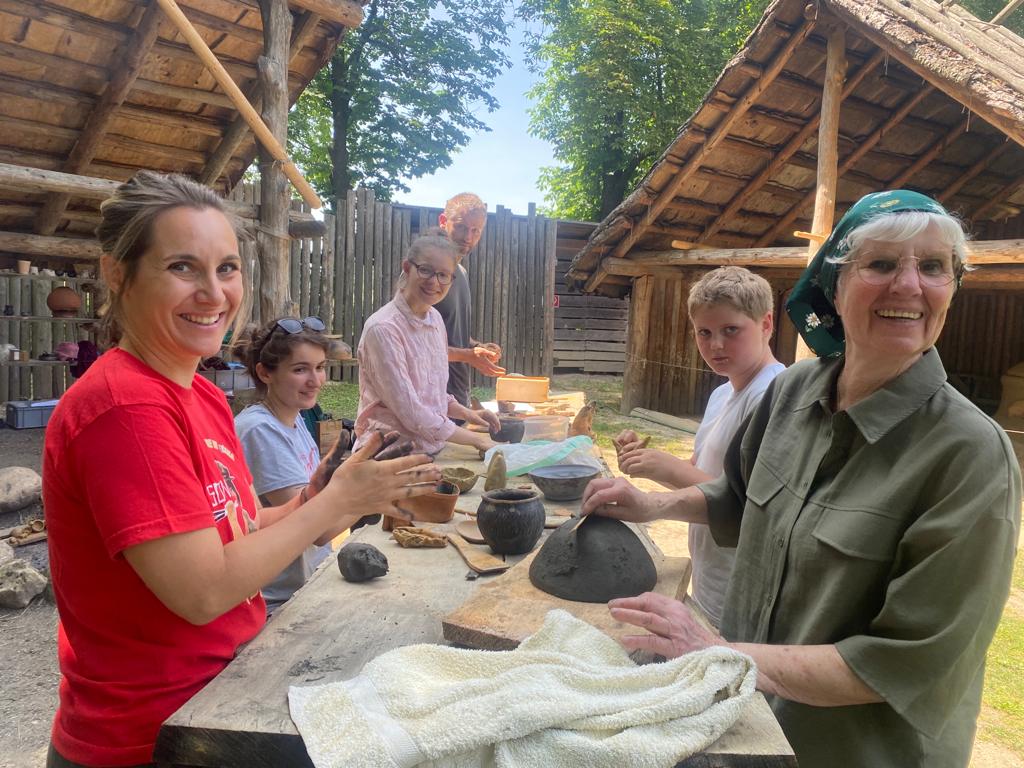 On Day 2, we made a test firing of the small vessels produced on Day 1 – we used a circular pit as open fire and sheep and cattle dung as fuel. The results were quite impressive – just after one hour, the main firing process was done and when we opened the "kiln" after 1.5hours, there were only little damages to some clay figurines, the vessels had stay intact. Most of them were nicely fired black, indicating that this way of packing vessels into dung and leaving the kiln unopened allows a firing process in reduced atmosphere – mirroring the appearance of most Nubian style vessels from Sudan!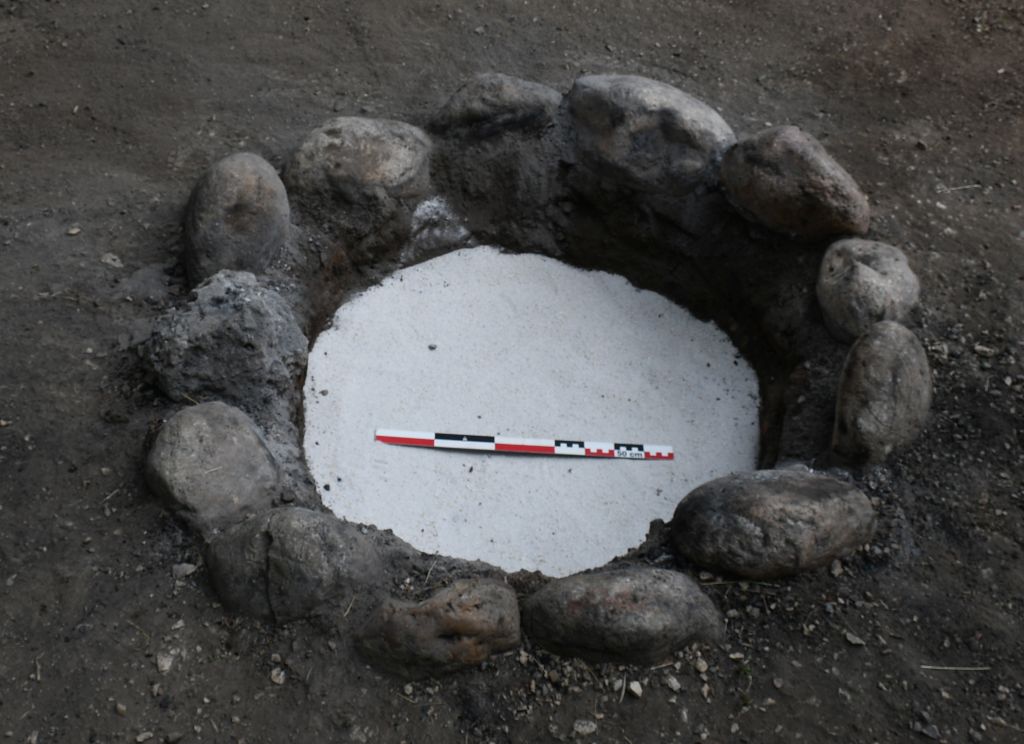 On Day 3, the Nile clay vessels (and our new replicas of fire dogs) were fired. We used the same pit, but made a much larger "kiln" out of sheep and cattle dung, including some straw and some bushes on the top (the latter are of course not really comparable to what would have been used in Egypt/Sudan, where also nowadays palm leaves are used).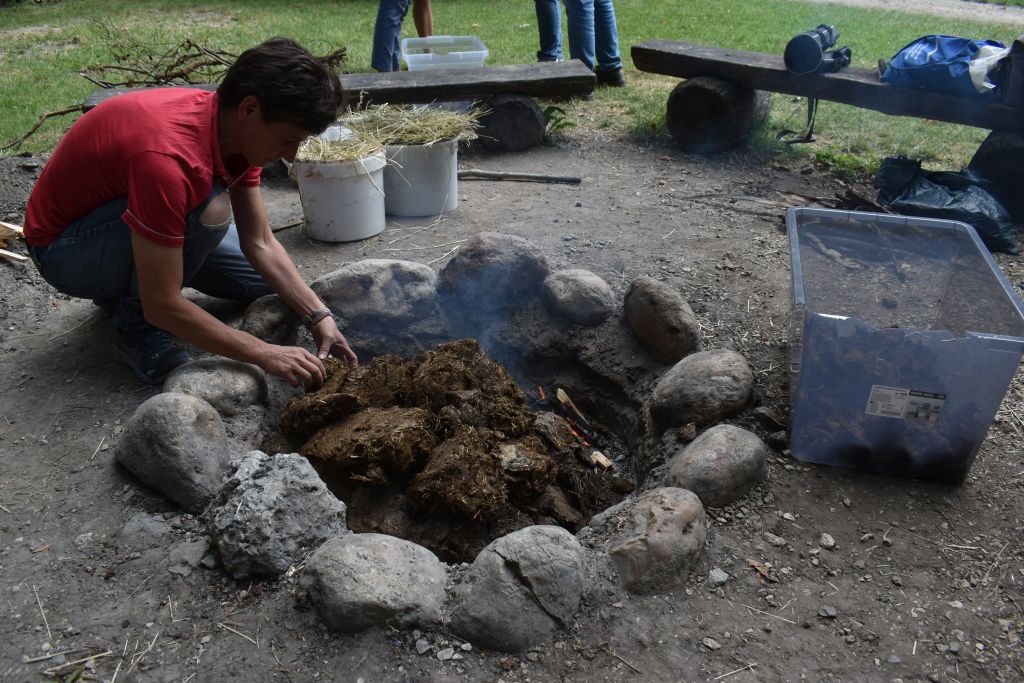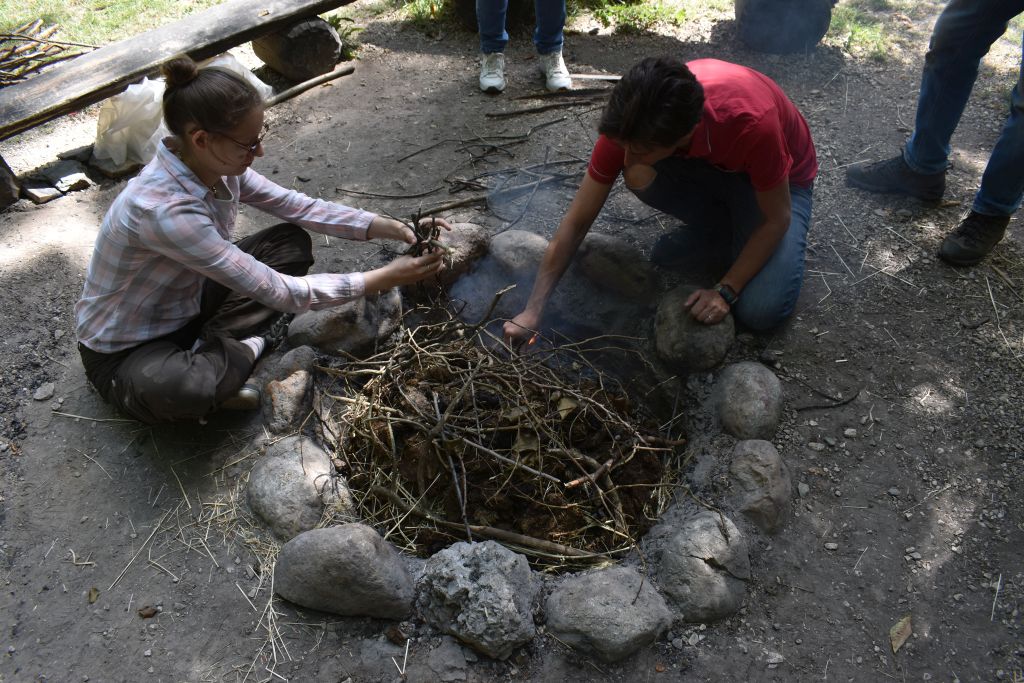 We started the firing of this kiln from the top, and it took almost 2h until we opened it. Towards the end of the process, we created some air holes since we were aiming for a firing process in oxidised atmosphere.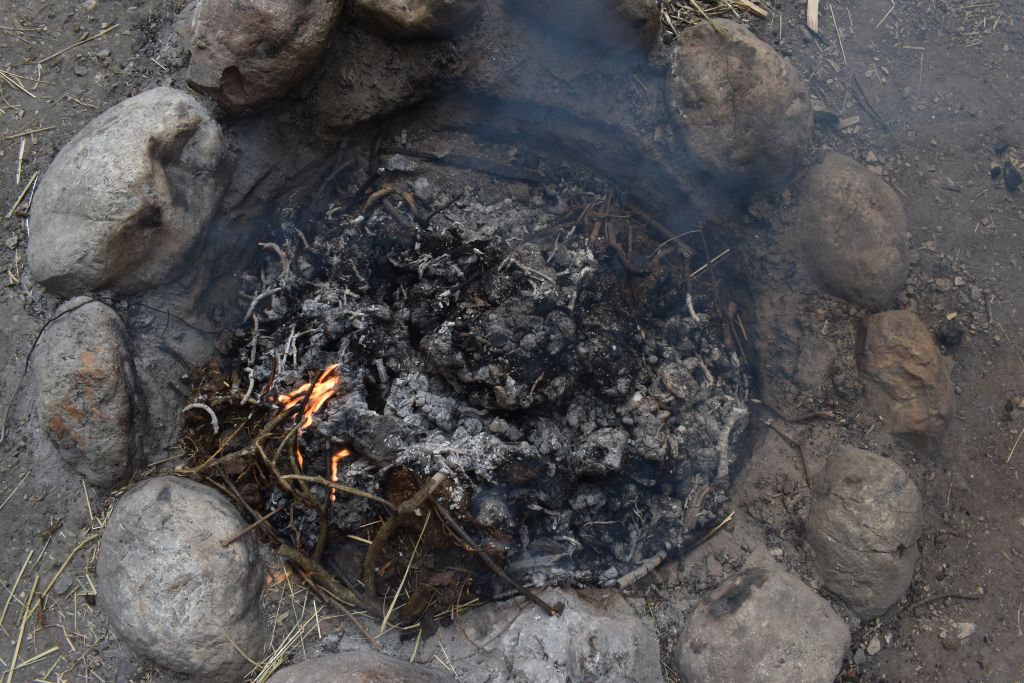 Well – what worked perfectly was the creation of the small, burnished beaker in Nile clay as a Black topped vessel. The surface of the larger bowl was very irregularly fired and shows many black spots, presumably because it was quite densely packed in the dung fuel. All the fire dogs came out with a very black surface, considerably different to our previous experiments firing them with wood as the only fuel.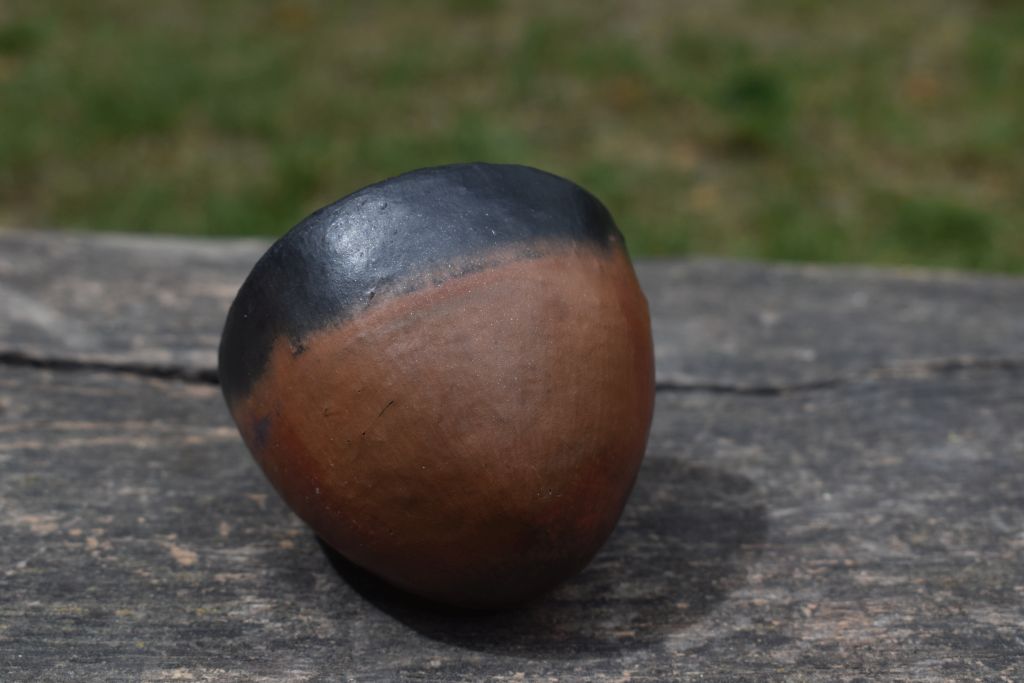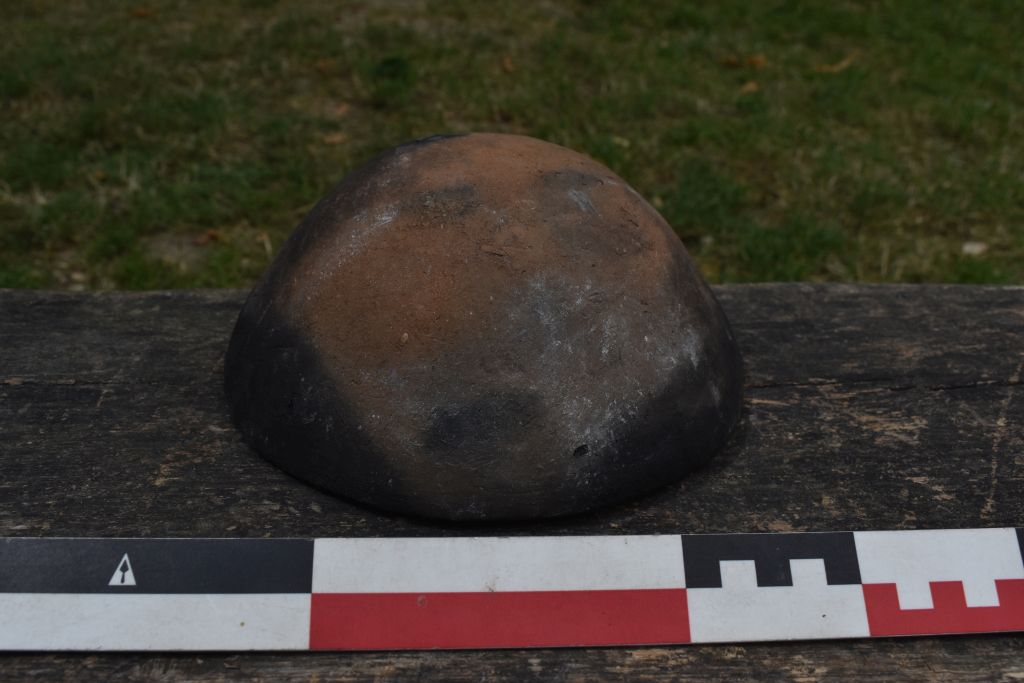 All in all, we again learned a lot during these three days in Asparn – not only about the challenges and details of some working steps when using Nile clay to produce ceramic vessels, but also about the qualities of dung as fuel in open fires. There are several things we would like to repeat and modify next year!
The second part of our experiments was dedicated to cooking with fire dogs – part 2 of Asparn 2023 will follow shortly.